GeForce Experience is a software package designed by Nvidia for its Graphics Processing Unit (GPU) users. It helps users keep the drivers of their GPUs up to date, optimize game settings for the best performance, record, and share gameplay and screenshots, access a library of PC games, and connect with other gamers in a community. It also includes features such as an in-game overlay, NVIDIA Ansel and ShadowPlay. With GeForce Experience, Nvidia GPU users can enjoy an enhanced gaming experience.
Are you looking to get the most out of your gaming experience? NVIDIA GeForce Experience is an essential tool for any PC gamer. In this article, we will explore a few of the many reasons why you should use GeForce Experience.
Capture and share your greatest gaming moments

With GeForce Experience, you can easily capture and share your best gaming moments with the world. Whether you're streaming to Twitch or YouTube, or just want to show off your skills to your friends, GeForce Experience makes it easy to do.
NVIDIA ShadowPlay in the Experience is a video recording and streaming tool that will allow you to share your gameplay with the world. To record your gameplay, simply press Alt+F9 while in-game. This will start recording anything you do in the game with the files being stored on your PC.
When you are done recording, simply press Alt+F9 again to stop recording. You can choose to record in low, medium, or high quality, or adjust the resolution and frame rates yourself in the custom settings.
This is a great way to capture those hard-to-get moments or show off your skills to others.
Get the latest drivers for optimal performance
GeForce Experience not only includes Game Ready Drivers, but also a software-based feature that allows you to manually search for updates or set it so the program notifies you when new drivers are released. These can be used by players before they launch their favorite video games as well as those looking for tweaks and fixes in order to enjoy smooth gameplay without any interruptions.
GeForce Experience always keeps your drivers up-to-date. This is beneficial because it means you don't have to worry about manually updating them yourself, which can be time-consuming.
The beauty about these drivers is that they are certified by NVIDIA which means that they have gone through tough testing to make sure that they work perfectly and offer the best gaming experience possible. With just a few clicks, you can update your drivers and be on your way to enjoying the latest games. GeForce Experience also helps keep your drivers up to date and provides handy features such as game optimization and battery boost.
Optimize your games for peak performance
GeForce Experience can automatically optimize your games for the best possible performance on your PC. NVIDIA has you covered with a one-stop shop for all of your gaming optimization needs. From finding the best settings to automatically optimizing new games, they're here and ready when we need them!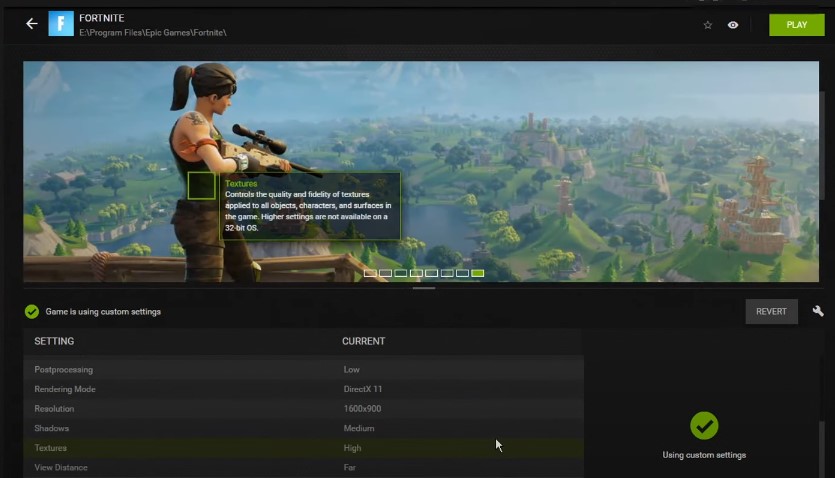 You can also see how your settings for a game will change with each individual tweak by hovering over the options. This way, you can optimize performance without any limitations on what is possible!
Use Nvidia Ansel to capture and edit screenshots
Nvidia Ansel is a powerful tool that allows gamers to capture and filter screenshots of their gaming experiences. With Ansel, gamers can take high-resolution screenshots with various filters and effects, and even create 360-degree panoramas. Ansel also allows gamers to capture their gaming moments in virtual reality, giving them an even more immersive experience.
Ansel makes it easy to capture stunning screenshots. It has a wide range of filters and effects that can be applied to screenshots, including color filters, depth of field, and motion blur. It also allows gamers to adjust the field of view, exposure, and other settings to get the perfect shot. Ansel also has a built-in photo editor that allows gamers to adjust the brightness, contrast, and other parameters of their screenshots.
Ansel also makes it easy to share screenshots with friends and family. Gamers can easily upload their screenshots to social media platforms like Facebook, Twitter, and Instagram. The tool also allows gamers to create virtual reality tours of their gaming experiences, which can be shared with others. With Ansel, gamers can capture and share their gaming experiences in ways that were not possible before.