AOKZOE A1 is a portable gaming machine that is powered by the award-winning AMD Ryzen 7 6800U Processor. With 8 cores and 16 threads, along with 4MB of L2 cache and 16MB of L3 cache, this processor guarantees the strongest gaming computing power. Its potential frequency is as high as 4.7GHz.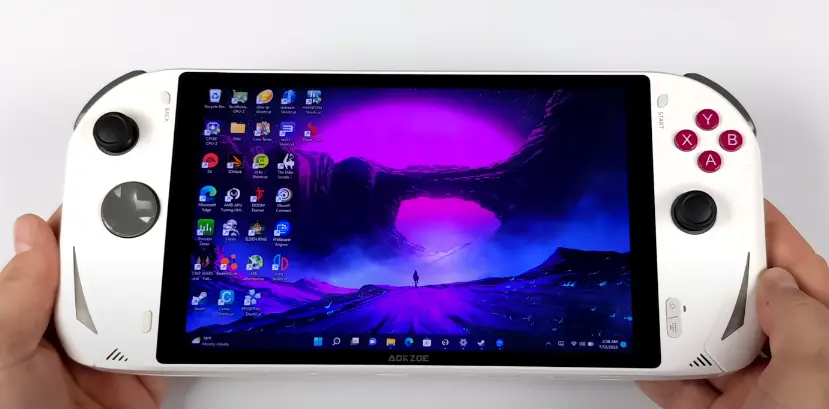 The A1 processes a game with the AMD Radeon 680M Graphics, which boosts the computing power and bandwidth by 50% compared to Vega. The frequency of the GPU can reach 2.4 GHz.
AOKZOE A1 Specs
CPU: AMD Ryzen 7 6800U Processor (Zen3+6nm)
GPU: Radeon 680M
Display: 8-inch, 1920×1200 IPS
RAM: 16/32GB
Storage: 512 GB / 1 TB / 2 TB
Battery: 48Wh (Standard model), 64WH (Pro model)
Wireless: Wifi 6, Bluetooth 5.0
Audio: Dual Stereo Speakers
OS: Windows 11 (default), Steam OS
Dimensions: 286mm x 125mm x 21mm
Weight: 668g (Standard model) / 729g (Pro model)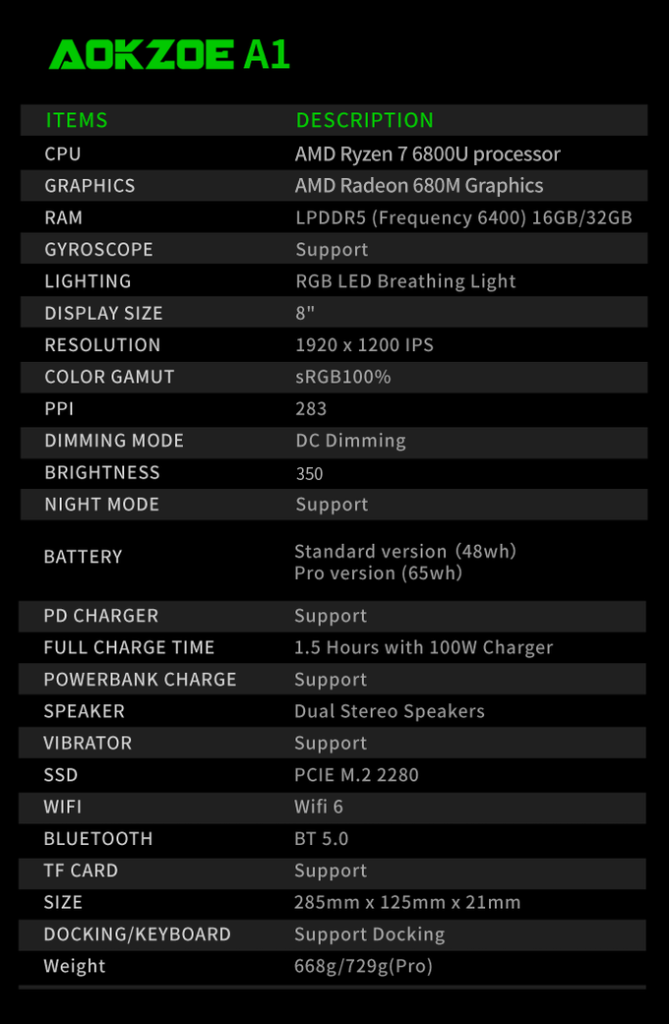 It has an 8-inch Full-HD IPS display with 1920 x 1200 resolution and 283 PPI. The tablet is powered by a built-in M.2280 PCIe3.0 solid-state drive, which offers high-speed TF 3.0 card support for more cost-effective hard drive capacity.
AOKZOE uses a 3.0 SD card with a maximum(theoretical value)speed of 300MB/s, 10 times higher than the 2.0 TF card and its maximum(theoretical value)speed of 40MB/s. This enables higher reading and writing speeds negates anxious wait time and allows for more local files.
All of this makes the AOKZOE A1 a new handheld for any gamer who wants smooth, superior gaming.