As technology continues to evolve, the portable gaming industry has seen a surge of new and innovative devices. But with so many options available, it can be hard to determine which one is truly worth your investment. That's why we've compiled a list of the absolute best handheld gaming PCs on the market today.
These devices have been carefully selected based on their cutting-edge features, exceptional performance, and overall value. So if you're in the market for a handheld gaming PC, keep reading to find out which ones are worth snagging and why!
Portable Gaming PC – The New Way to Game
A handheld gaming PC, also known as a gaming handheld, is a small, portable personal computer that is designed for mobile gaming. It typically has a smaller screen than a traditional laptop or desktop computer and is powered by a mobile processor and graphics chipset.
Most handheld gaming PCs are under ten inches (7- or 8-inch is the norm) in size, making them convenient to carry with you on the go.
They typically have a smaller screen than a traditional laptop or desktop computer and are powered by a mobile processor and graphics chipset. This allows them to provide a great gaming experience while still being highly portable.
They are typically powered by a mobile chipset, an APU, or an IGP, which provides great performance for mobile gaming.
Handheld gaming PCs usually come equipped with physical buttons and joystick-style controls.
They also have built-in speakers and Wi-Fi capabilities, so you can connect to the internet and play online multiplayer games.
Most handheld PCs run on Windows OS. However, there are some exceptions, such as the Steam Deck, which runs on its own custom SteamOS, which is a Linux-based operating system that was developed specifically for gaming.
They have an HDMI port, allowing you to connect them to a larger screen for a more immersive gaming experience.
Handheld gaming PCs are popular among gamers who want to take their games with them on the go.
Our Favorite Handhelds
Steam Deck: Best overall with good support and a large community.
ROG Ally: Powerful with competitive price.
AYANEO Air 1S: If you want a compact handheld.
Recommended accessories: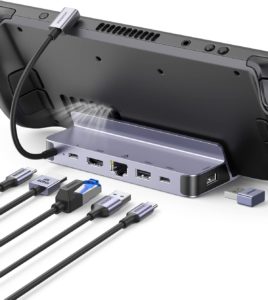 The UGREEN Steam Deck Dock is not just limited to connecting with the Steam Deck, it can also be used with the ASUS ROG Ally.
The design of the UGREEN Dock is sleek and practical. It is made of all-aluminum material and functions as a stand for your Steam Deck. It fits perfectly with your handheld and has silicone pads to prevent sliding.
Importantly, these pads do not block the cooling vents, ensuring your Steam Deck stays cool during intense gaming sessions.
Monitor Compatibility:

Connection to various monitors with different resolutions and refresh rates.
4K@60Hz HDMI port.
Support for 2K@144Hz and 1080P@240Hz.
High-quality and smooth gaming experiences.

Versatile Ports:

Two USB 3.0 ports and one USB C port.
Data transmission speed of up to 5Gbps.
Easy connection to external devices like mice, keyboards, game controllers, U disks, hard disks, etc.

Gigabit Ethernet Port:

Connection to a wired network.
Faster game download speeds.
Smoother online gaming experience.
Elimination of high latency issues from wireless networks.

100W PD Fast Charging Port:

Supports a maximum power input of 20V 5A.
Full-speed charging while gaming.
Especially beneficial for long gaming sessions.
The Top-Rated Handheld Gaming PCs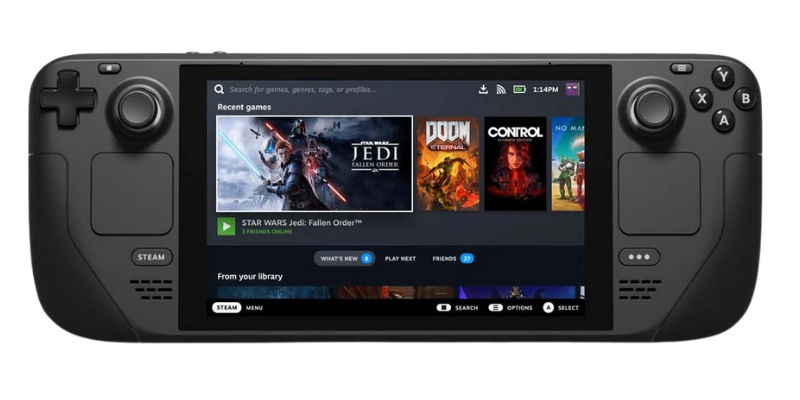 The Steam Deck is a portable gaming PC that was designed to allow users to play their Steam games on the go. The Steam Deck starts at $399, and it features a 4-core AMD Zen 2 CPU, an 8-core AMD RDNA GPU with 1GB of video memory, 16GB of RAM, and up to 512GB of storage. The Steam Deck also has a 7″ 60HZ IPS display (1280 x 800).
The Steam Deck is a powerful portable PC that is dripped out to customers throughout the year after their mass influx of pre-orders. The Steam Deck has been designed to be portable so you can bring the best of Steam with you wherever you go. The thick design makes it durable too.
Some reviewers have noted that the layout of the device looks strange, but many users find that it works well.
While some games may require adjustments to work smoothly on the Steam Deck, we are seeing an increasing number of games that work seamlessly on this device as time goes on. However, it's important to note that not all games are currently optimized for the Steam Deck and may require additional development to be fully compatible.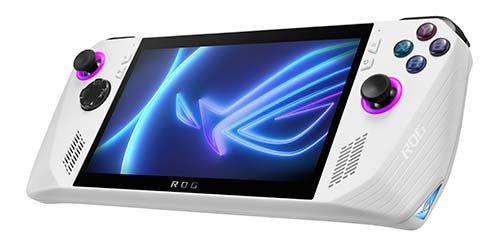 Its powerful AMD Ryzen Z1 Extreme chipset ensures a seamless gaming experience, while the 16GB of memory guarantees smooth multitasking capabilities. Packed with a generous 512GB of storage, you'll have ample space for all your favorite games.
The 7-inch 1080p LCD touchscreen, boasting a rapid 120Hz refresh rate, elevates your gameplay to new heights. Every movement feels incredibly fluid, thanks to the variable refresh screen, providing an unmatched level of smoothness.
One standout feature of the ROG Ally is its quiet fan, which can be customized to your preferences. Take control of the noise and heat levels with custom fan curves, ensuring a peaceful gaming environment.
Additionally, the Asus ROG Ally supports fast charging, minimizing downtime and allowing you to jump back into the action without delay. You won't have to worry about running out of power during intense gaming sessions.
Despite its remarkable features, there are a few areas where the ROG Ally falls short. The battery life, while sufficient for casual gaming, may be relatively short for longer sessions. The handheld user interface currently suffers from major glitches, and the face buttons can occasionally become stuck. Furthermore, using Windows on a handheld device, even with Microsoft's involvement, can still pose some challenges.
However, the ROG Ally boasts several envy-inducing features that Steam Deck owners might find themselves longing for. The shoulder buttons are conveniently positioned and offer a satisfying click. The analog sticks strike the perfect balance, neither too tall nor too short. The Xbox One-style concave D-pad provides excellent control and responsiveness. Moreover, the inclusion of a fingerprint sensor adds an extra layer of security with genuine biometrics.
The ROG Ally also offers a range of built-in shortcuts, making your gaming experience more efficient. Switch tasks seamlessly with the built-in task-switching feature, access the task manager with ease, and capture memorable moments with screenshots and video recording shortcuts. Hold down one of the rear paddles and press the D-pad or face buttons to activate these functions effortlessly.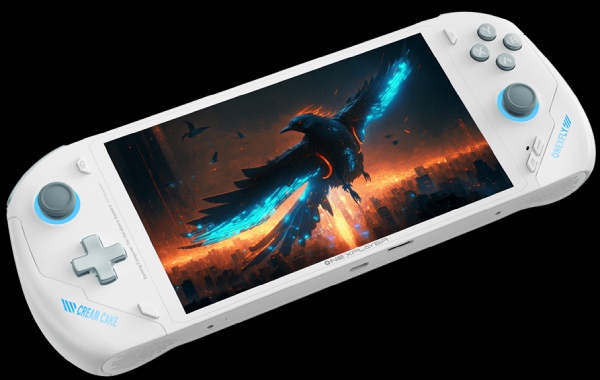 OneXFly is the lightweight, handheld gaming PC you didn't even know you'd been waiting for in 2023!
At the heart of OneXFly beats the mighty AMD Radeon Ryzen 7 7840U. Comparable to the ROG Ally and the Steam Deck, this chipset means that the OneXFly isn't just portable – it's a supremely capable gaming beast. Imagine having the power to play your favorite high-performance games in the palm of your hand!
Worried about battery life cramping your gaming style? No need for the OneXFly. This device comes with a 48Wh battery. That's slightly more juice than the Ally and the Steam Deck, which are both packing 40Wh batteries.
This isn't just any handheld device; it's a style statement. The OneXFly sports a slimmer bezel despite having a 7″ screen like other handhelds. The result? A more immersive gaming experience and a sleek, compact design you can't help but love.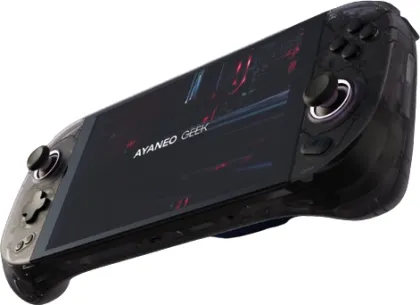 With the AMD Ryzen™ 7 7840U at its core, it's like having a thunderstorm's power in your pocket. But it doesn't stop there; it boasts a savvy three-copper tube heat dissipation system, keeping your gadget ice-cool even during intense gaming sessions. It's a game-changing feature that ensures the GEEK 1S doesn't break a sweat, unlike its competition.
And what's a good gaming device without a little extra zing? Enter the Graphene Patch, another cool feature that supercharges the device's heat dissipation, keeping your gaming experience always at peak performance. But the GEEK 1S isn't just about high-octane performance. It sports an ergonomic body mold that's a real treat for your hands, making long gaming sessions a walk in the park.
Sure, all these bells and whistles might make the GEEK 1S a bit on the pricey side. But for the unbeatable performance and sleek design, we believe it's a worthy investment for any serious gamer.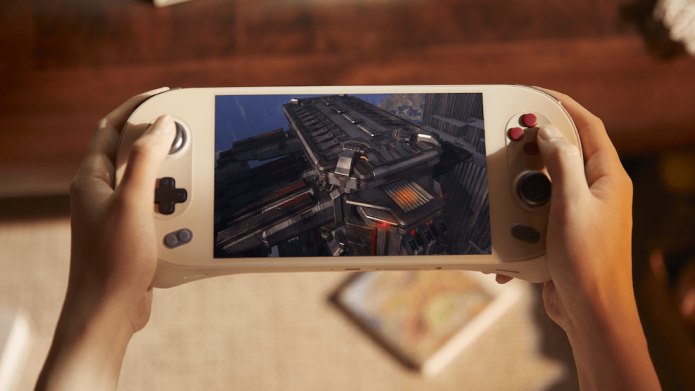 This Windows-11 handheld gaming PC is a beast in terms of performance, and it's ready to give its biggest competitor, the Steam Deck, a run for its money.
The AYANEO 2S is equipped with AMD's new Ryzen 7 7840U APU, a whopping 2TB SSD, and 32 GB of DDR6 RAM. This powerful combination allows gamers to install and play even the most demanding modern titles that aren't necessarily playable on other handheld gaming devices.
The device also boasts improved heat dissipation, which is a significant upgrade considering the power it packs. Plus, it features new access ports on the side, making it easier for users to repair the unit at home.
The AYANEO 2S measures 26.4 x 10.5 x 2.1 cm and weighs approximately 600g, making it a compact and portable gaming solution. It features a 7″ 1080×1200 IPS touchscreen display, offering crisp and vibrant visuals for an immersive gaming experience.
The device is powered by a 13050mAh battery, offering a playing time of 2-3 hours. That's plenty for the power offered.
The AYANEO 2S shines with its responsive controls, ergonomic design, and incredible handheld performance. It's capable of running the majority of PC games, making it a dream come true for many gamers.
However, it's not without its drawbacks. The device can get incredibly warm when using high-power battery plans, which might be a concern for some users. AYANEO's proprietary software, AYASpace, has a somewhat clunky user interface that could use some improvements.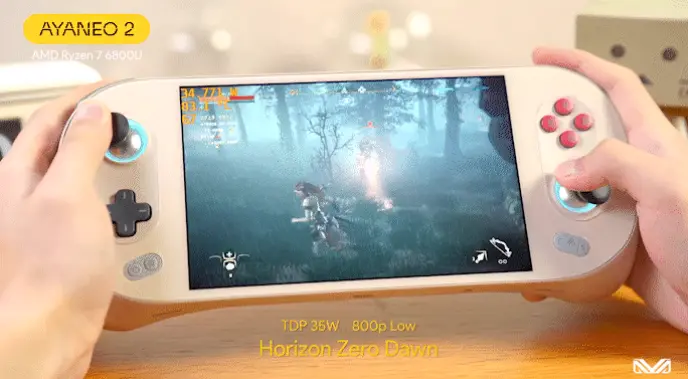 AYANEO is known for producing high-quality products, and the AYANEO 2 is a great example of its dedication to creating innovative handheld devices.
The AYANEO 2 is a handheld device that has been designed with great attention to detail. It has rounded edges and a front glass panel that covers the analog sticks and action buttons. The back grips are also spacious, making it comfortable to play games for long periods of time.
The AYANEO 2 showcases impressive components, such as the Ryzen 7 6800U CPU and Radeon 680M GPU. It also offers a maximum of 32GB DDR5 RAM, ensuring powerful performance.
Furthermore, it provides up to 2TB storage and an astonishingly vibrant 7″ LCD touchscreen display. With a brightness level of 400 nits, the screen is a standout feature of the device. It offers a resolution of 1920 x 1200 and a high pixel density of 332, enhancing the visual experience.
Playing games like Elden Ring and Cyperpunk on the AYANEO 2 feels surreal but truly delivers.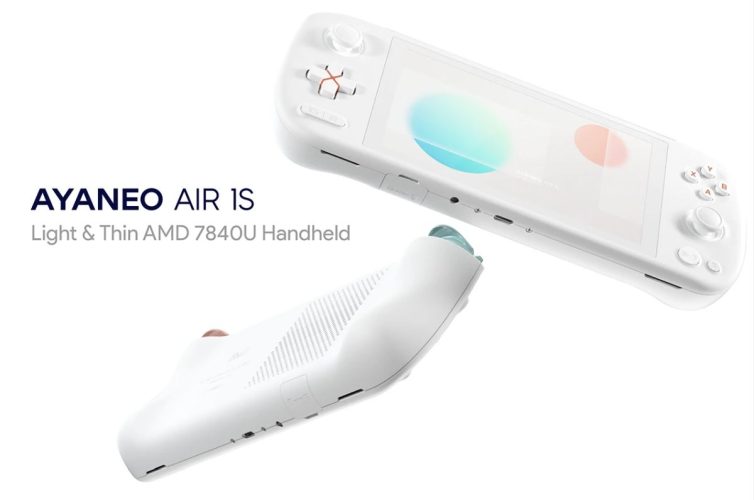 The AYANEO Air 1S is juiced up with an AMD Ryzen 7 7840U, partnered with the mean Radeon 780M Graphics based on RDNA3. This dynamic duo gives the device a serious punch when it comes to gaming horsepower.
To see this in action, look no further than the behemoth that is Cyberpunk 2077. The Air 1S manages an impressive average of 77 FPS at 720p low settings. You'll be able to revel in the gritty, neon-infused future without lag spoiling your fun.
And it's not just about the sheer power under the hood. The 5.5" AMOLED screen is a beauty, turning every pixel into a feast for the eyes. Gaming on the go has never looked so good!
When it comes to staying connected, the Air 1S has got you covered with built-in Wi-Fi 6E and Bluetooth 5.2. For the tech junkies out there, it's also packed with two USB 4 Type-C ports and a 3.5mm audio jack, perfect for when you want to plug in and block out the world. Need extra storage? Just pop in a microSD card, and you're good to go.
We also love the added security of the fingerprint reader in the power button. Plus, the hall-sensing joysticks are a dream to play with, using electromagnetic induction to eliminate that pesky drift. There's a touch of flair with tasteful RGB lighting and the convenience of dual six-axis gyroscopes. So far, it seems like a handheld gamer's paradise, right?
AYN Odin

AYN Odin is a handheld that was fully backed on Indiegogo within a couple of weeks. It can run Windows if you want the familiar OS on this handheld.
The Odin is different from other handhelds on the market in that it targets retro gamers rather than those who love to play AAA PC games.
AYN might be a new name in the world of handheld gaming, but the Odin they've produced is might impressive. It's only $199, yet it's got enough power to emulate 3DS and Gamecube games without any trouble.
That's thanks to the 2.0GHz Dimensity D1000G CPU, ARM Mali-G57 GPU, and RG4B RAM that are all crammed into this 6″ 1080p IPS display device. It also feels great in the hand – really solid and well put together with great controls.
The battery life is pretty solid too. AYN has definitely made a strong case for themselves with the Odin and at this price point, it's hard to see how anyone could resist giving it a go.