Ayaneo's fresh-out-the-oven release, the Ayaneo Flip, might just remind you of your good ol' Nintendo DS times. But with a modern twist, of course!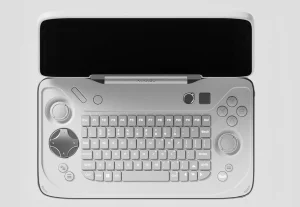 CPU: AMD Ryzen 7 7840U
GPU: Radeon 780M (RDNA3)
Display:
RAM:
Storage:
Input:
Battery:
Ports:
Wireless:
Audio:
OS: Windows 11
Dimensions:
Weight:
The Flip easily fits in your pocket, striking that sweet balance between portability and functionality. Flip it open and you're greeted with a set of face buttons, a d-pad, twin thumbsticks, and a nifty mini keyboard that's perfect for some quick typing action.
🎉#AYANEO FLIP is coming soon💥
Still top-notch aesthetics in design
Delivering astonishing performance
Unparalleled grip and comfort perfected 👏
A true gamer's understanding of #flip #handheld 🎮

🌐Discord: https://t.co/NCCVbFEr7v pic.twitter.com/YPoopizBVw

— AYANEO (@AYANEO__) September 5, 2023
The Flip runs on Windows 11. So, forget fumbling around with those on-screen keyboards; with Flip's physical mini keyboard, diving into chats becomes a breeze. But hey, if you've ever tried the Xbox 360 chat pads or maybe the classic Blackberry, you'd know these tiny keys can take a minute to get used to – a heads-up for the folks with chunkier fingers out there.
Peeking into the device specs, word around the Ayaneo community hints at a vivid seven-inch display with a snappy 120Hz refresh rate. Is it touch-enabled? Well, that's still up in the air. However, a teeny trackpad seems to have made a cameo near the hinge. While the full specs aren't laid out for us just yet, hints suggest it could roll with a Ryzen 7840U processor, keeping in line with Ayaneo's previous devices.
Got questions? Ayaneo's head honcho, Arthur Zhang, dropped some tidbits about the Flip in their community chat. The device will be on par with the Ayaneo Neo 2S in terms of specs and even flaunts the same cool tech to keep things chilled.
And here's a fun fact – this ain't Ayaneo's first rodeo with handhelds boasting keyboards. A while back, they unveiled the Ayaneo Slide, rocking a display reminiscent of the Nokia Sidekick and yep, another cool mini keyboard.
To put things in perspective, we recently had a hands-on with the Lenovo Legion Go, complete with its unique detachable controllers that morph into gaming mice. From the Flip to the Legion Go, the world of PC handhelds is offering choices galore, and isn't that what PC gaming is all about? Choices and the thrill of the new!