The AYA NEO NEXT II is a gaming handheld device that was announced about a year ago. The NEXT II is getting an 8-inch IPS screen, making it the biggest handheld gaming device the company has made so far.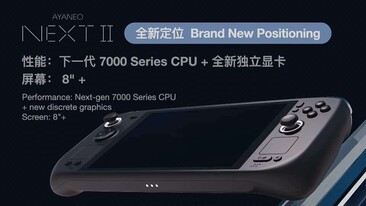 CPU: Ryzen 7000 APU
GPU: Discrete GPU
Display: 8″
RAM:
Storage:
Input:
Battery:
Ports:
Wireless:
Audio:
OS: Windows 11
Dimensions:
Weight:
The NEXT II is likely to be compared to the Steam Deck because of its touchpads. However, there are some differences. It seems that the NEXT II won't be as portable as the Steam Deck. The button layout will be more traditional, which might affect how comfortable it is to hold.
The design still features two touchpads located under the analog sticks and a d-pad that's to the left side. People are going to compare this with the Steam Deck, mostly because they both have touchpads.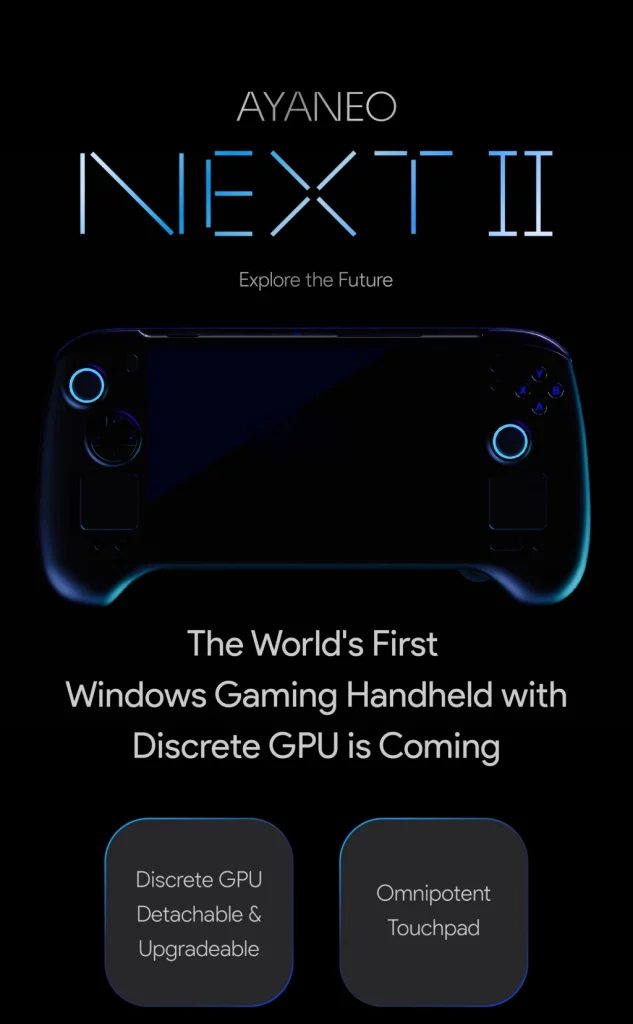 Looking ahead, AYA NEO plans to roll out even bigger handhelds, positioning the NEXT II as just the beginning. They're aiming to launch it before this year wraps up.
As for the nitty-gritty details, the company is keeping mum for now. But they did share that the device will pack a Ryzen 7000 APU and a standalone graphics card. Because of this powerful combo, the device will need around 100 watts of cooling power.
So, the NEXT II isn't just a one-off; it's more like the start of a new line of products for AYA NEO. It's less portable than the Steam Deck but could offer a different experience because of its unique layout and larger screen. It also promises to be a pretty powerful device, given its hardware specs.