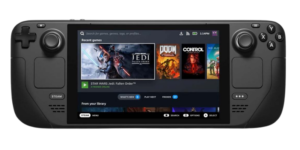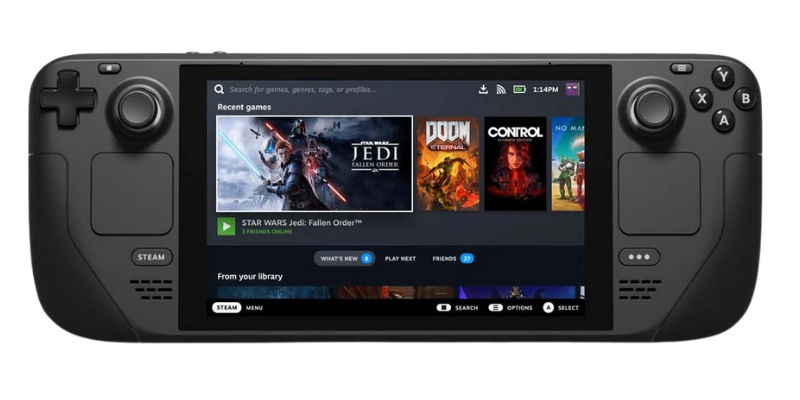 Custom AMD Zen 2 "Van Gogh" APU
7″, 1280 x 800px (16:10 aspect ratio)
Steam Deck is a gaming handheld that can play PC video games. It is a gaming console developed by Valve Corporation, which is also the creator of the popular Half-Life and Counter-Strike series of games.
The highly anticipated Steam Deck was released on February 25, 2022. This next-generation console can be played as a handheld or connected to a monitor, providing gamers with the ultimate flexibility. You can think of it as a Nintendo Switch but for PC games.
3 Steam Deck Models
There are 3 different models to suit different budgets.
$399 64GB
64GB eMMC internal storage
Carrying case
$529 256GB
256GB NVMe SSD internal storage
Faster storage
Carrying case
Exclusive Steam Community profile bundle
$649 5122GB
512GB NVMe SSD internal storage
Fastest storage
Premium anti-glare etched glass
Exclusive carrying case
Exclusive Steam Community profile bundle
Exclusive virtual keyboard theme
The baseline $399 model comes with 64GB of eMMC storage and a carrying case, while the upgraded $529 model upgrades to 256GB of NVMe SSD storage and adds an exclusive Steam profile bundle. For $649, you can get the top-tier model with 512GB of "high-speed" NVMe SSD storage, special anti-glare glass, an exclusive virtual keyboard theme, a custom carrying case, and the aforementioned Steam profile bundle.
Steam Deck Specs
The Steam Deck is a portable gaming system that you can hold in the palm of your hand, and for its size, it still packs some serious power.
Here are the full system specs:
Compute
Processor

AMD APU
CPU: Zen 2 4c/8t, 2.4-3.5GHz (up to 448 GFlops FP32)
GPU: 8 RDNA 2 CUs, 1.0-1.6GHz (up to 1.6 TFlops FP32)
APU power: 4-15W
RAM

16 GB LPDDR5 on-board RAM (5500 MT/s quad 32-bit channels)
Storage
64 GB eMMC (PCIe Gen 2 x1)
256 GB NVMe SSD (PCIe Gen 3 x4 or PCIe Gen 3 x2*)
512 GB high-speed NVMe SSD (PCIe Gen 3 x4 or PCIe Gen 3 x2*)

All models use socketed 2230 m.2 modules (not intended for end-user replacement)
All models include high-speed microSD card slot
*Some 256GB and 512GB models ship with a PCIe Gen 3 x2 SSD. In our testing, we did not see any impact to gaming performance between x2 and x4.
Controls and Input
Gamepad controls
A B X Y buttons
D-pad
L & R analog triggers
L & R bumpers
View & Menu buttons
4 x assignable grip buttons
Thumbsticks
2 x full-size analog sticks with capacitive touch
Haptics
HD Haptics
Trackpads
2 x 32.5mm square trackpads with haptic feedback
55% better latency compared to Steam Controller
Pressure-sensitivity for configurable click strength
Gyro
6-Axis IMU
Display
Resolution
1280 x 800px (16:10 aspect ratio)
Type
Optically bonded IPS LCD for enhanced readability
Display size
7″ diagonal
Brightness
400 nits typical
Refresh rate
60Hz
Touch enabled
Yes
Sensors
Ambient light sensor
Connectivity
Connectivity
Bluetooth 5.0 (support for controllers, accessories and audio)
Dual-band Wi-Fi radio, 2.4GHz and 5GHz, 2 x 2 MIMO, IEEE 802.11a/b/g/n/ac
Audio
Channels
Stereo with embedded DSP for an immersive listening experience
Microphones
Dual microphone array
Headphone / mic jack

3.5mm stereo headphone / headset jack
Digital
Multichannel audio via DisplayPort over USB-C, standard USB-C, or Bluetooth 5.0
Power
Input

45W USB Type-C PD3.0 power supply
Battery
40Whr battery. 2 – 8 hours of gameplay
Expansion
microSD
UHS-I supports SD, SDXC and SDHC
External connectivity for
controllers & displays
USB-C with DisplayPort 1.4 Alt-mode support; up to 8K @60Hz or 4K @120Hz, USB 3.2 Gen 2
Size and Weight
Size
298mm x 117mm x 49mm
Weight
Approx. 669 grams
Software
Operating System
SteamOS 3.0 (Arch-based)
Desktop
KDE Plasma
Steam Deck OS and Software
Steam Deck runs a modified Arch Linux operating system called SteamOS v3.0. This means that it's super easy to install and use, and it's also very lightweight so it won't slow down your gaming rig.
Proton, a compatibility layer that enables most Windows games to be played on the SteamOS, is included with the SteamOS software. So most PC games can run on the Steam Deck. Some can't be played due to anti-cheat or DMR software which isn't supported by Proton. Valve is working on this to make sure all popular games can be played on the Deck.
For PC gamers, one of the most important pieces of software is the Steam client. This allows them to access a huge range of games and connect with other players from around the world. The Deck's Steam client is based on a modified version of the Steam client for PCs.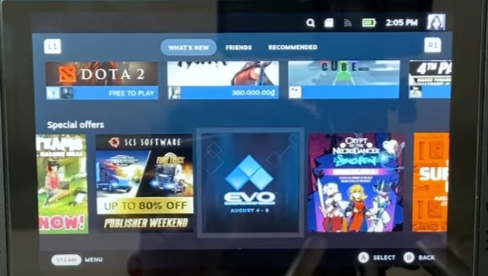 The Steam client on the Deck is the same as the desktop version, with additional features and interface elements to make using Steam with a controller easier. Indicators that are typical of portable systems such as battery life and wireless connection availability are included.
While the Deck was created to play Steam games, it can also be used with third-party programs such as alternative game stores like Epic Games Store, Ubisoft Connect, or Origin.
Steam Deck Van Gogh GPU Specs
You can check its equivalents here.
GPU Name: Van Gogh
GPU Variant: 100-000000405
Architecture: RDNA 2.0
Foundry: TSMC
Process Size: 7 nm
Transistors: 2,400 million
Density: 14.7M / mm²
Die Size: 163 mm²
Base Clock: 1000 MHz
Boost Clock: 1600 MHz
Memory Clock: 1375 MHz, 5.5 Gbps effective
Memory Size: 16 GB
Memory Type: LPDDR5
Memory Bus: 128 bit
Memory Bandwidth: 88.00 GB/s
Theoretical Performance
Pixel Rate: 25.60 GPixel/s
Texture Rate: 51.20 GTexel/s
FP16 (half): 3.277 TFLOPS (2:1)
FP32 (float): 1.638 TFLOPS
FP64 (double): 102.4 GFLOPS (1:16)