Have you been having problems with your deck lately? Maybe it's not getting as hot as it used to, or the steam isn't coming out like it used to. Don't worry, you're not alone. Many people are experiencing these problems with their decks, and there is a solution. In this blog post, we'll provide you with a guide on how to troubleshoot your deck and get it back to working order. So if your deck is giving you fits, keep reading! We'll help you fix it.
General Solutions
Software update: It's always important to keep your software up to date. Not only do updates provide new features and bug fixes, but they can also help to improve security. That's why it's a good idea to install any available system updates on your computer. For Steam Deck users, they can check the latest updates at Steam > Settings > System > Software Updates.
Restart the device: If you're still having problems with your deck after installing updates, it's time to try restarting the device. This can help to clear any glitches that may have developed and could be causing problems. To restart your device, hold the device's Power button for several seconds then choose Restart.
Disable Desktop-mode 3rd-party apps: If you're still experiencing difficulties, make sure any third-party applications you've downloaded through Desktop Mode are uninstalled and disabled, and test your problem again.
The Most Common Steam Deck Problems and Fixes
My Steam Deck keeps crashing
First, make sure that you have all the latest updates installed. If that doesn't help, try rebooting your Steam Deck by holding down the power button for 10 seconds.
If that still doesn't work, the next step is to visit the Steam Deck Recovery page. You can follow their guide to re-image your Steam Deck.
Download the recovery image here.
Prepare a USB key (8GB minimum) with the downloaded recovery image.
Use a USB-C adapter or hub to plug the boot disk in.
Power off your Steam Deck
In the Boot Manager, boot from the 'EFI USB Device'
Wait a minute for the Deck to boot up.
Then you can use the trackpad and trigger to navigate.
Choose the Re-image Steam Deck option to perform a full factory reset.
Low battery life
If you're using your Steam Deck and finding that the battery is running low too quickly – especially when playing games – there are a few things you can do to try and improve it.
You can start by checking the performance section in the Quick access menu; if your battery life is draining faster than it should be, you may be able to improve it by lowering some of the settings.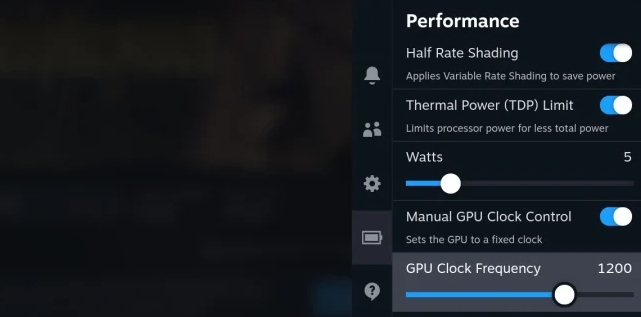 Reduce brightness
Set FPS cap to 30fps
Turn on FidelityFX Super Resolution
Lower the refresh rate cap to 30Hz.
Enable Half Rate Shading
There's no audio
If you're having trouble getting audio to play through your Steam Deck, there are a few things you can try. First, check to make sure that there's no Bluetooth connection with other devices. If there is, disconnect it and try again. If that doesn't work, try rebooting the device by pressing the Power button for 10 seconds.
If you're still having trouble, it may be due to incompatibility with some third-party headsets. The Steam Deck may not be compatible with some headsets, according to Valve. If you have the choice, use a Bluetooth connection and the 3.5mm audio jack interchangeably to see if one works better than the other.
It can't be turned on
If your Steam Deck won't turn on, the first thing to check is the battery charge. If it's completely drained, plug in the power adapter and try again. For a detailed solution, you can read this post.
Contact Steam Support
If you can't resolve your issue, you can open a ticket on the support center at https://help.steampowered.com/en/wizard/HelpWithSteamDeck.