The recent announcement that the Steam Deck will be compatible with Xbox Game Pass has left many gamers with questions. One of the most popular questions is whether or not the Steam Deck can use Xbox Game Pass.
Microsoft has now made it possible for gamers to play Steam Deck Xbox games. The publisher has now posted instructions on how to get it up and running on Steam Deck for gamers with an Xbox Game Pass Ultimate subscription which also includes the Xbox Cloud Gaming beta. So your favorite Xbox Game Pass games, Halo 5, and Halo Infinity are playable on the Steam Deck.
This is great news for gamers who want to be able to play their favorite Xbox games on the Steam Deck. not only will they be able to play these games on the go, but they will also be able to do so without having to worry about lugging around their Xbox console. This is a great move by Microsoft and will undoubtedly be appreciated by many gamers.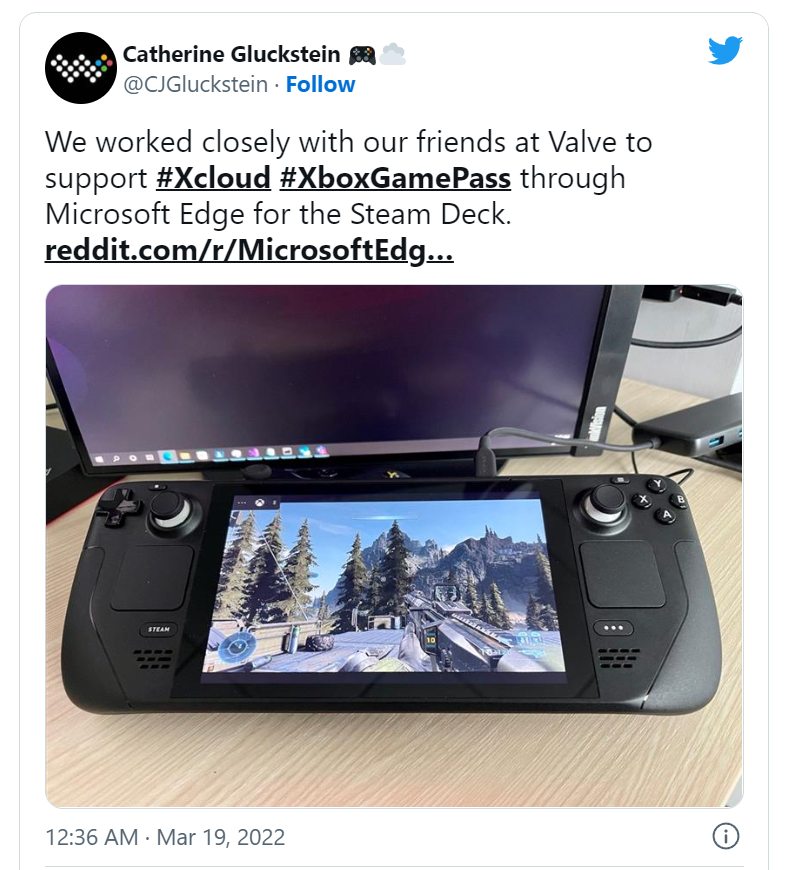 What we need to do is to install Microsoft Edge and use Xbox Game Pass through it. Microsoft Edge beta is available on Steam, and the team has provided a detailed walkthrough on how to install it. It's as simple as downloading and installing the beta branch of Edge on your Steam Deck, adding it to Steam, and then pasting a few lines into the Konsole.
To set up Xbox Cloud Gaming:
Press the Steam menu > Power > Switch to Desktop
Click the Discover Software Center icon
Click the hamburger menu > Internet > Web Browsers
Scroll until you find Microsoft Edge Beta and click the install button
Back on the Desktop, click the Applications Launcher icon on the bottom left of the taskbar
Navigate to Internet
Right-click on Microsoft Edge (beta) > Add to Steam
In the Add a Game window, scroll to find and select Microsoft Edge (beta)
Back in the Applications menu, navigate to System > Konsole
Set the override by entering this command in Konsole: flatpak --user override --filesystem=/run/udev:ro com.microsoft.Edge
On the Desktop, launch Steam:
Head to your Library and locate Microsoft Edge (beta)
Right-click on it > Properties
Change the name to Xbox Cloud Gaming (Beta)
Locate LAUNCH OPTIONS and append the following:
--window-size=1024,640 --force-device-scale-factor=1.25 --device-scale-factor=1.25  --kiosk "https://www.xbox.com/play"
To switch the controller layout to Gamepad with touchpad as Mouse

Select the gear icon in the top right > Manage > Controller layout
Browse the templates and select Gamepad with Mouse Trackpad
You can find full details on reddit.