It's a common error to see a "disk write error" when trying to install or update a game through Steam on a Steam Deck.
On PC, there could be several reasons for this error, but most often it is caused by a lack of free space on your hard drive or a problem with your internet connection. But on Steam Deck, the reason for the cause might be more complicated.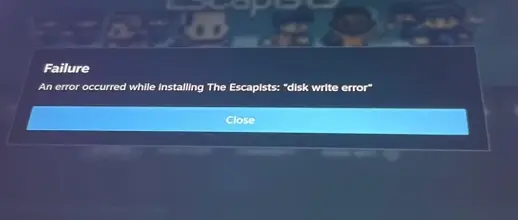 Some Methods You Can Try to Fix "Disk Write Error" on Steam Deck
Restart your Steam Deck.
Check if your Deck has enough storage left to install or update a game.
Take out the SD card, then plug it in again.
Make sure your SD card's format is ext4.
Access Desktop mode to install the game.
If you used the trick to save space by moving shadercache and compatdata to the SD card, you need to make sure those folders are linked properly from .local/share/steam/steamapps. There are many cases the OS will unlink those folders. So you need to be sure about the link when changing the SD card.
I hope this helps. If not, contact Steam Deck support to check if your hardware is failing.