Steam Deck offers an array of resolution choices for both handheld and docked modes. With these options, players can tweak their gameplay according to their preferences. This article demystifies the resolution choices of the Steam Deck, guiding you to a tailor-made gaming adventure.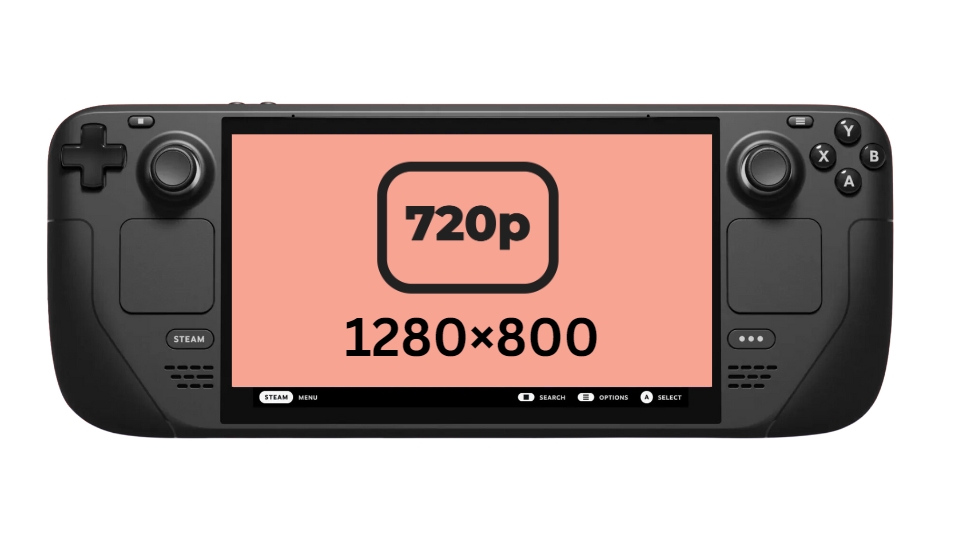 Native Resolution: 1280×800
Docked Resolution:

3840 x 2160 @ 60Hz
2560 x 1440 @120 Hz
1920 x 1080 @240Hz
Steam Deck's Resolution
The Steam Deck's default resolution is 1280×800. This unique size closely mirrors a 720p resolution, although it maintains a somewhat unusual 16:10 aspect ratio.
This contrast to the ubiquitous 16:9 gaming standard might result in black margins flanking your display, particularly for games that don't natively align with the 16:10 aspect ratio.
Given the Steam Deck's 7-inch display, its pixels per inch (PPI) remain comparable to the Nintendo Switch.
When using the Steam Deck in handheld mode, the resolution settings are set to a default value and cannot be adjusted. This design choice guarantees a consistently high-performance level and superior visual experience in a mobile setup.
Steam Deck's Resolution When Docked
If your Steam Deck finds itself connected to a dock, its capabilities stretch up to 4K (3840 x 2160) resolution at 60Hz, courtesy of HDMI 2.0.
Other resolutions that the docked mode can accomplish include 2560 x 1440 at 120Hz and 1920 x 1080 at 240Hz.
Despite this, one should bear in mind that the Steam Deck's design principally aims at 720p game performance, and might struggle when pushed to these elevated resolution and refresh rates.
By default, the Deck's resolution matches your external display's resolution. Thus, connecting your device to 4K television results in a default resolution of 3840 x 2160.
To modify the resolution of the docked Steam Deck, navigate through 'Settings' from the Steam button, click 'Display', then select 'Resolution' under 'External Display Scaling'. 
Although the Steam Deck is capable of 4K output, the optimal performance for gaming could be closer to 1080p on external screens.
Change Resolution per Game
The Steam Deck takes customization a step further by allowing per-game resolution configurations. Accessing a game's page and going into 'Properties' through the gear icon lets you dictate your preferred resolution.
This unique feature allows for more flexibility, permitting higher resolution 2D games, while ensuring that performance-heavy 3D games run smoothly. This proves particularly handy for those games that may not cooperate with certain resolutions, ensuring peak compatibility with your Steam Deck.
An exciting feature of the Steam Deck is the incorporation of FidelityFX Super Resolution (FSR). An innovative technology by AMD, FSR employs machine learning to upscale gaming resolutions in real-time without burdening performance. This allows for a game running in 720p to appear as though in 1080p, all while keeping the performance unhindered.
FSR can be activated within the game by hitting the Quick Access Button and selecting 'FSR' under 'Scaling Filter' in the 'Performance' tab, represented by a battery icon. You can then set your preferred sharpness level and even lower the in-game resolution for improved performance.
Understanding and manipulating your Steam Deck's resolution settings ensures an optimized gaming experience. It's all about the balance: game visuals and performance, handheld and docked. With these adjustments, you can truly make the most of your Steam Deck's capabilities. Happy gaming!