ASUS is entering the handheld gaming PC market with its new ROG Ally device. Set to be released with Windows 11, the device will be powered by a custom AMD Ryzen processor, and will even allow users to attach an external GPU. This announcement came after an initial April 1st reveal, which caused some initial confusion as to whether it was a real product. However, ASUS has since confirmed that the device is indeed real and will be available soon. The ROG Ally is set to compete with similar devices from Ayaneo and Valve.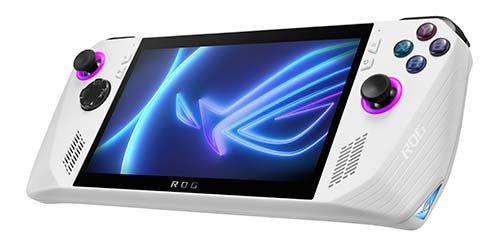 Asus ROG Ally Pricing
There are 2 models: Z1 and Z1 Extreme. The Z1 model is sold at $599.99, while the Z1 Extreme model is sold at $699.99.
The Z1 Extreme model can be purchased from any part of the world starting June 13.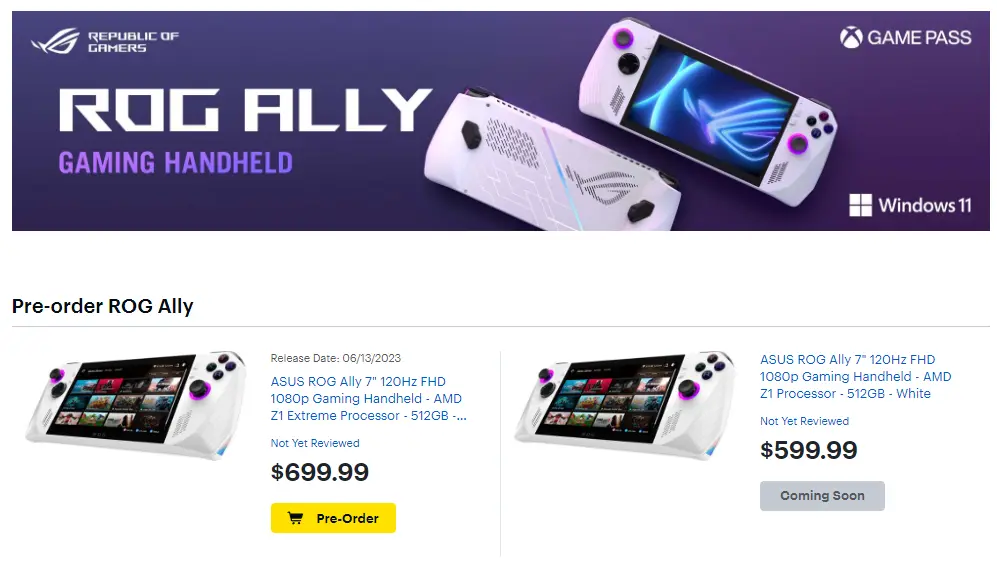 This $699 model has 512GB and 16GB of RAM. It costs $50 more than the most expensive Steam Deck model.
Asus ROG Ally Specs
CPU:

AMD Ryzen™ Z1 (6-core, 12 threads, up to 30W – 2.8 TFlops)
AMD Ryzen™ Z1 Extreme (8-core, 16 threads, up to 30W – 8.6 TFlops)

GPU:

Z1: AMD Radeon™ RDNA 3 Graphics (4GB VRAM, 4 compute units)
Z1 Extreme: AMD Radeon™ RDNA 3 Graphics (4GB VRAM, 12 compute units)

Display: 7-inch display, 16:9 aspect ratio, 1920 x 1080 resolution, 500 nits brightness, 120Hz refresh rate
RAM: 16GB of LPDDR5 RAM
Storage: 512GB PCIe 4.0 SSD, UHS-2 Micro SD card expansion
Input: Controllers, Macro Buttons, Touchscreen
Battery: 40 WHrs
Power Supply: 65W USB-C PD 3.0 power supply
Ports: 3.5mm audio jack, USB-C 3.2 Gen 2 combo port with DisplayPort 1.4 support, UHS-II microSD card reader
Wireless: Wi-Fi 6E, Bluetooth 5
Audio: Dolby Atmos
OS: Windows 11
Dimensions: 280mm x 113mm x 39mm
Weight: 608g
Extra Features: XBOX Game Pass Ultimate – 3 months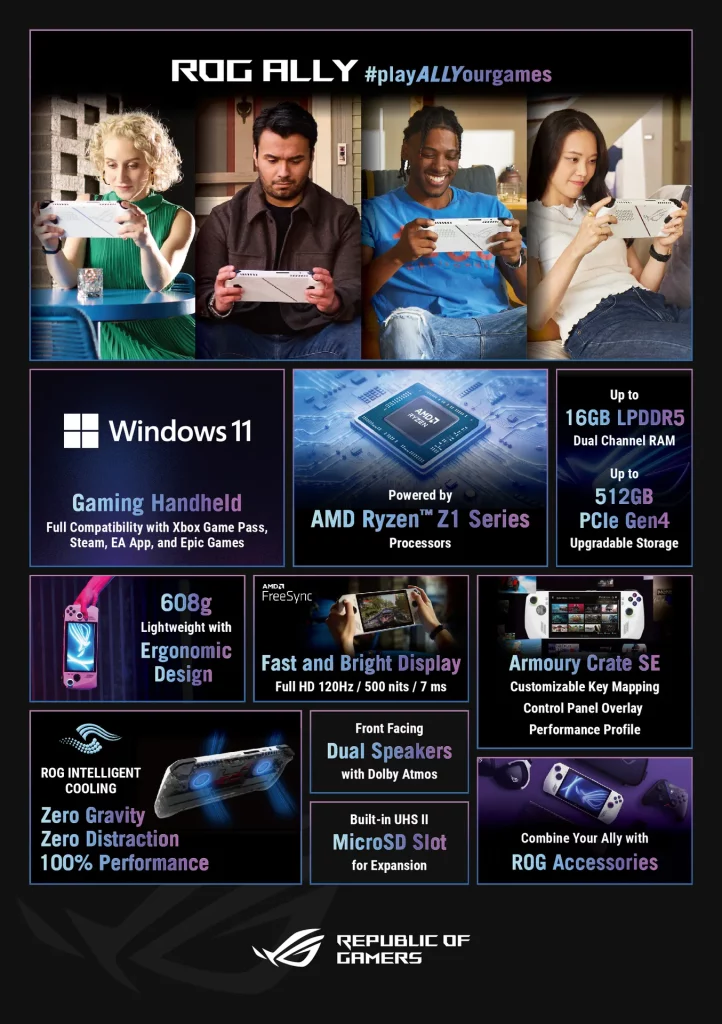 The ROG Ally packs some impressive display features into its seven-inch form factor: a 16:9 aspect ratio, 1920 x 1080 resolution, and a stunning 500 nits of brightness, plus a refresh rate of 120Hz. By contrast, the Steam Deck provides a lower resolution (1280 x 800) on its seven-inch 16:10 display, only 400 nits of brightness, and a mere 60Hz refresh rate.
The Ally device uses a 'custom' Ryzen Z1 chipset that has Zen 4 CPU cores and RDNA 3 graphics. This chipset is made using a 4nm manufacturing process.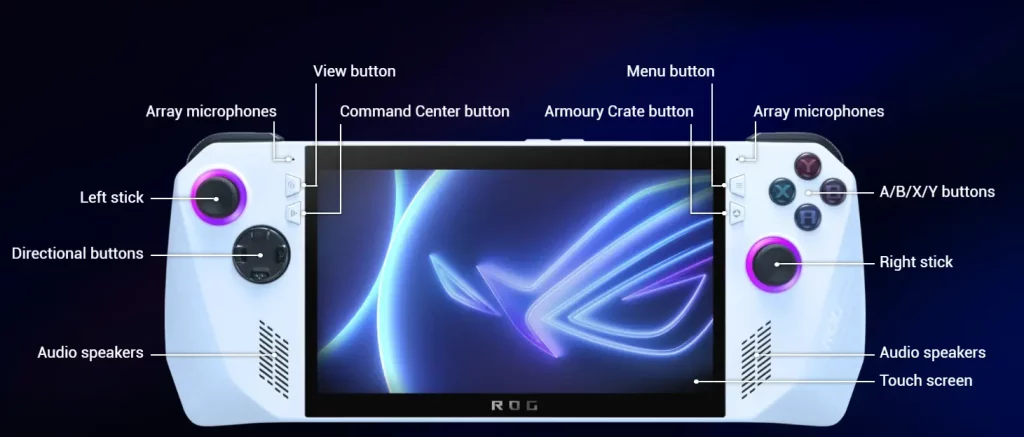 Asus has spent five years perfecting the design of the Ally. It weighs 608g and has aluminium internals, twin fans, and 'anti-gravity heat pipes'. They have also added custom components to ensure that it performs well and is easy to carry around.
Topping it all off, the Ally has a convenient fingerprint sensor on the top of the device. Many suggest that it is used for account switching.
Having more advanced hardware specifications can impact the battery life of a gaming handheld, particularly when running demanding games or applications. Regarding the operating system, Windows 11 is relatively resource-intensive, and it may take some time to determine its efficiency and performance relative to SteamOSs. However, Windows is a widely used and well-established platform for gaming, and many gamers prefer its flexibility and compatibility with a wide range of hardware and software.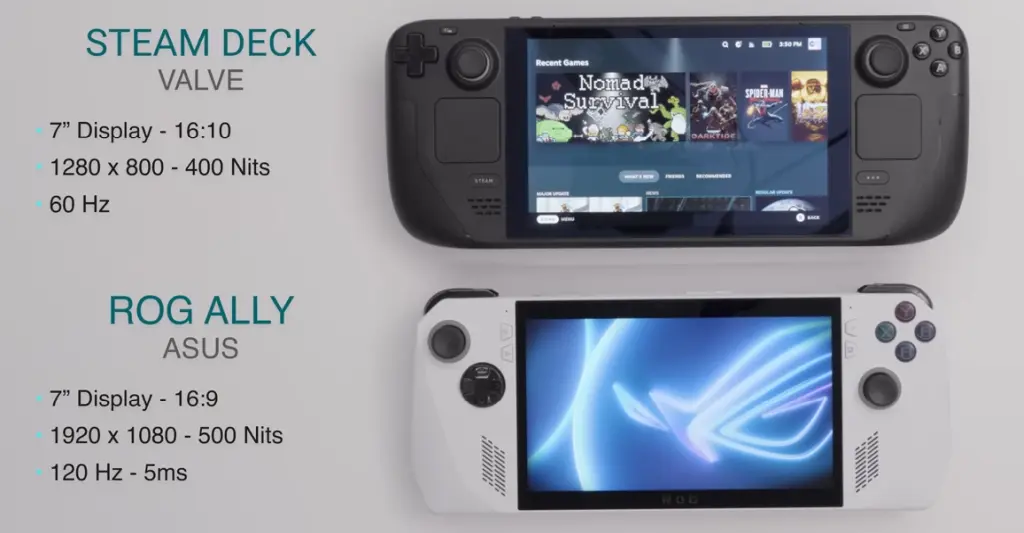 The Ally is different from the Steam Deck because it can run many more games than the Steam Deck. While the Steam Deck is limited to playing games from your Steam library, the Ally is capable of running almost any game its hardware can handle.
The ROG Ally's standard control layout is similar to that of many other gaming handhelds, featuring dual analog sticks, a left-mounted D-pad, and four face buttons. Additionally, the smaller buttons around the screen provide convenient access to menus and settings.
The ROG XG Mobile eGPU is an external graphics processing unit that can be connected to the ROG Ally, providing additional graphics performance for demanding games. By using the eGPU and streaming the games to a TV, players can enjoy a larger screen and a more immersive gaming experience. This is a feature that sets the ROG Ally apart from other gaming handhelds and makes it a versatile device that can adapt to different gaming situations.