The ROG Ally is a highly capable handheld device. Although it is relatively new, it still has some issues that need to be addressed. To fully optimize the performance of the ROG Ally, it is essential to have software specifically designed for this purpose.
EmuDeck
The EmuDeck was initially designed for Valve's SteamOS and Steam Deck. However, it is currently being developed in a beta version for both Windows and Android platforms.
In order to gain access to the beta version, users are required to contribute a certain amount of money to support the software through Patreon.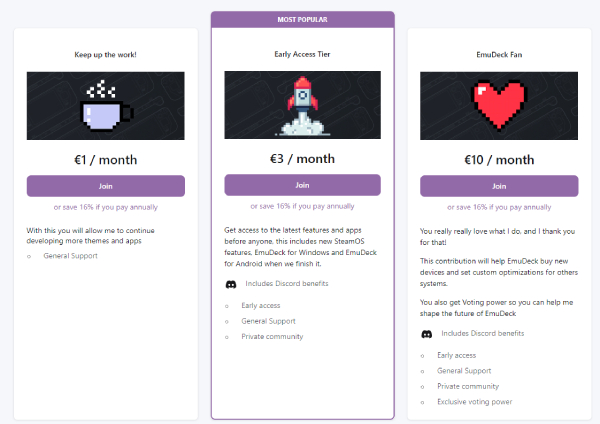 To gain early access, simply select the Early Access Tier package or a higher tier on the EmuDeck Patreon page.
Once you have done this, head over to GitHub and download the most recent EmuDeck installer.
Then proceed with the installation of the downloaded file.
To gain access to the Emudeck Beta launcher, simply log in to your Patreon account. This exclusive feature allows you to try out the latest version of Emudeck before it is officially released.
Handheld Companion
The Handheld Companion is a tool that works with Windows to improve the way you play games on handheld devices. It's designed with a touchscreen-friendly user interface.
The software can be downloaded here.
Here are some of its key features:
Motion Control: This feature allows you to control your game through motion, similar to how a gyroscope works. It uses the device's inertial measurement unit (IMU), which includes a gyroscope and an accelerometer, or an external sensor. The motion control settings can be customized for different types of games, such as racing games, first-person and third-person games, and even emulated games.
Quicktools Overlay: This is a handy tool that lets you change and see various settings like the thermal design power (TDP), the graphics processing unit (GPU), screen refresh rate, resolution, brightness, volume, power mode, and battery level.
Virtual Controller Simulation: This feature allows the software to emulate the controls of a Microsoft Xbox 360 Controller or a Sony DualShock 4 Controller, broadening the range of games that can be played.
Profile Settings System: This is an automatic system that detects which game is active and applies the appropriate settings for the best gaming experience.
PlayStation Remote Play Support: It lets you use the Sony DualShock 4 controller with its motion and touchpad capabilities for PlayStation Remote Play.
3D Controller Overlay: This is a visual enhancement feature that adds a three-dimensional controller overlay for stream recordings, making your streams more engaging and immersive.
Handheld Companion can help get rid of the deadzone issue and allow gyro support as well.
Nyrna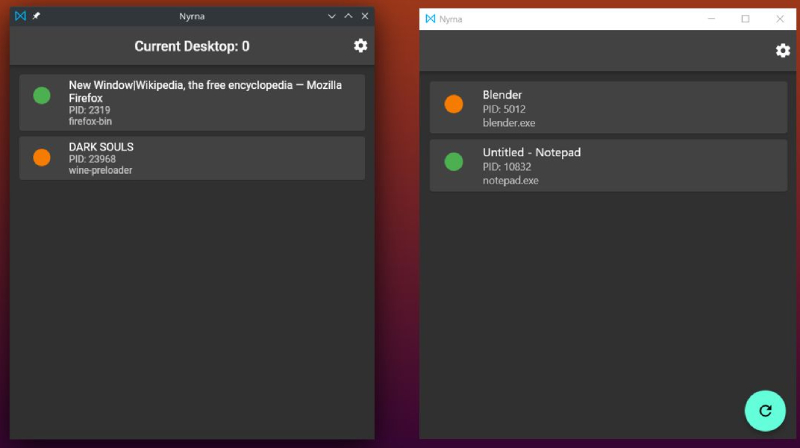 Nyrna is a Linux and Windows tool that borrows a trick from popular gaming consoles like the Nintendo Switch and Sony PlayStation – the ability to suspend your games and applications at your convenience. It's like hitting the pause button on a live show, allowing you to resume exactly where you left off, whenever you're ready.
Ever wished you could pause that intense cutscene to really digest the dialogue or take in the scenery? Or perhaps you're playing a single-player game like Dark Souls or Elden Ring, notorious for their inability to pause?
Maybe you're in between checkpoints in Hollow Knight and need a break. Or you've got a game whose pause screen sends your system into overdrive or blasts that tune you just can't stand.
Nyrna's got you covered, allowing you to put your game on standby and reclaim system resources without missing a beat.
But that's not all, Nyrna isn't just for gamers. It can also suspend regular, non-gaming applications. Whether you're in the midst of 3D rendering, video encoding, or software compilation, these are tasks that can often hog your system's CPU and GPU resources, sometimes for hours on end.
With Nyrna, you can simply suspend these programs whenever you need your system for other tasks. This frees up your resources, except RAM, until you're ready to resume the process, right where you left off.
Game Stores & Launchers
Steam: The most popular game store for PC gaming. It boasts the Steam Link app which is the cost-free gateway to stream your favorite PC games from Steam onto your mobile devices and even TV.
Playnite: An open-source manager for your video game library that acts as a universal launcher. With support for 3rd party libraries like Steam, GOG, Origin, Battle.net, and Ubisoft Connect, it's your one-stop shop. Bonus points for game emulation support.
Launchbox: Not just a video game library manager and launcher, but an aesthetic tool that allows you to emulate, organize, and beautify your game collection. It's all about the user experience here.
Razer Cortex: A wizard at managing and initiating all your games, no matter which platform they're on – be it Steam, Origin, GOG Galaxy, or Ubisoft Connect. Total control is at your fingertips.
Heroic Game Launcher: An open-source Game Launcher designed for Linux, Windows, and MacOS. Get ready to launch Epic Games Store games using the Legendary command line.
Epic Games Store: This digital storefront for video games, curated by Epic Games, is tailored for Microsoft Windows and macOS. Your next favorite game could be just a click away.
Blizzard Battle.net: The powerhouse platform developed by Activision and Blizzard Entertainment that integrates online gaming, digital distribution, and digital rights management. Home to numerous famous titles like World of Warcraft, Diablo III, StarCraft II, Hearthstone, Heroes of the Storm, Overwatch, and Call of Duty.
Origin: An impressive platform from Electronic Arts that combines online gaming, digital distribution, and digital rights management. Purchase games for PC and mobile platforms, then download them through the Origin client.
EA Play: Electronic Arts brings you this subscription-based video game service, granting access to a selection of games. Don't forget, Origin is necessary for full access to all EA titles.
Ubisoft Connect: This service by Ubisoft is not just a digital distributor, it's a rights manager, a multiplayer platform, and a communications service all rolled into one. Achievements and trophies just add to the fun.
Rockstar Games Launcher: Your direct download link to the latest PC titles from Rockstar Games. Your gateway to the gritty, the grand, and the unforgettable.
GOG Galaxy: Unify your gaming experience with this application. It pulls together all your game libraries into one neat package and enables connection with friends across all platforms, consoles included.
Itch.io Store: This app puts all your downloads from itch.io in one convenient location and even keeps them updated. Download and run games and software effortlessly.
FFXIV Launcher: Say hello to a faster, smoother way to dive into the acclaimed MMO. Brimming with add-ons and enhancements, it also offers features like auto-login, fast patching, Discord Rich Presence, and in-game market board price checks.
OBS Studio
OBS Studio is a no-cost solution for top-notch video recording and live streaming. From Twitch and YouTube to many other platforms, OBS Studio is your go-to for delivering high-quality H264 / AAC encoded content.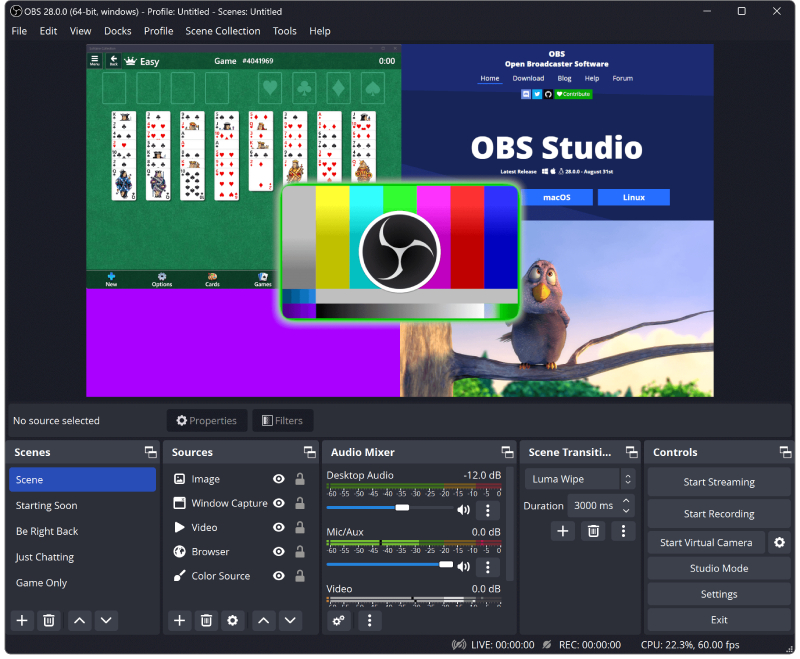 Starting with version 28, OBS Studio is making some serious moves. Expect 10-bit and HDR video encoding support for AV1 and HEVC, enhanced AMD encoding on Windows, an integrated NVIDIA RTX software, a fresh default theme, and a host of other changes.
Key features:
Real-time Video/Audio Capturing and Mixing: Mix and match from a variety of sources including window captures, images, text, browser windows, webcams, capture cards, and more to create unique scenes.
Custom Transitions: Craft an unlimited number of scenes and switch between them seamlessly using custom transitions.
Intuitive Audio Mixer: Comes with per-source filters like noise gate, noise suppression, and gain, and even supports VST plugins.
Easy Configuration Options: Add new Sources, duplicate existing ones, and modify their properties with just a few clicks.
Detailed Settings Panel: A comprehensive array of configuration options allows you to tweak every detail of your broadcast or recording.
Modular 'Dock' UI: Rearrange your layout as you like and even detach each Dock to its own window.
Chiaki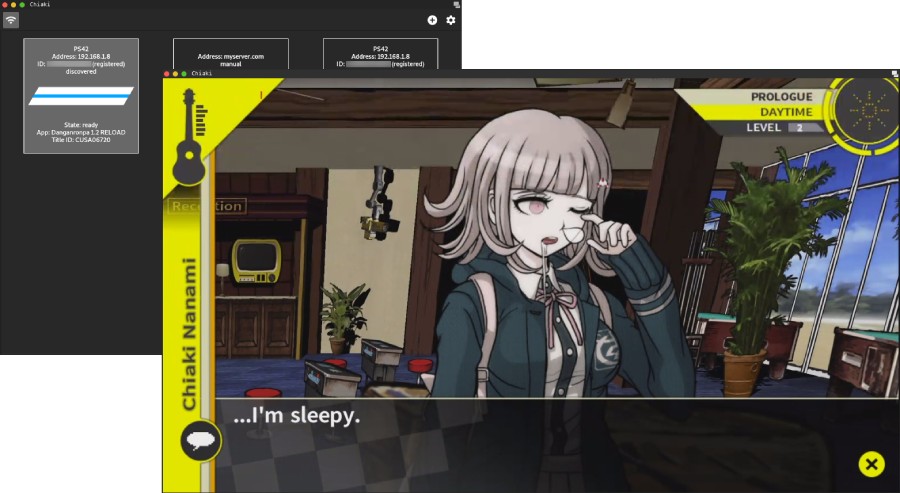 Chiaki is a comprehensive and open-source client designed for PlayStation 4 and PlayStation 5 Remote Play. It's versatile enough to run on an array of platforms such as Linux, FreeBSD, OpenBSD, Android, macOS, Windows, and Nintendo Switch, with the potential for even more.
As long as your console is on your local network, powered on or on standby, and hasn't had Discovery explicitly disabled, Chiaki will likely spot it.
If it doesn't, simply hit the "+" icon at the top right and input your console's IP address for a manual addition.
Universal x86 Tuning Utility Handheld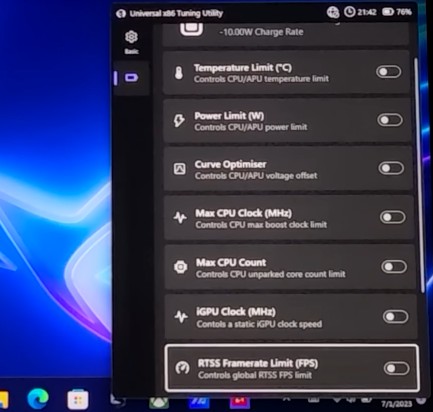 The Universal x86 Tuning Utility Handheld simplifies the complexity of fine-tuning, placing complete control of your device's performance at your fingertips.
It's specifically designed to optimize everything in your ROG Ally, granting access to the hidden potentials of your AMD-based handheld through an intuitive pop-up menu.
The application interface is neatly divided into two primary sections, each packed with essential features:
Settings Section
Here, you have the flexibility to customize various aspects of your device, including:
Wifi Connectivity
Bluetooth Settings
Brightness Control
Volume Adjustment
Operating Mode Selection
Switching between Controller and Mouse Input
Enabling Start on Boot
Opting to Start Minimized
Advanced Section
For the tech-savvy users craving in-depth control, this section unlocks a host of advanced options:
Setting Temperature Limits for CPU/APU
Changing the Thermal Design Power (TDP)
Managing CPU/APU Voltage
Controlling Maximum CPU Clock Speed
Adjusting Maximum CPU Count
Modifying Framerate Limits
Enabling or Disabling AMD RSR
BloatyNosy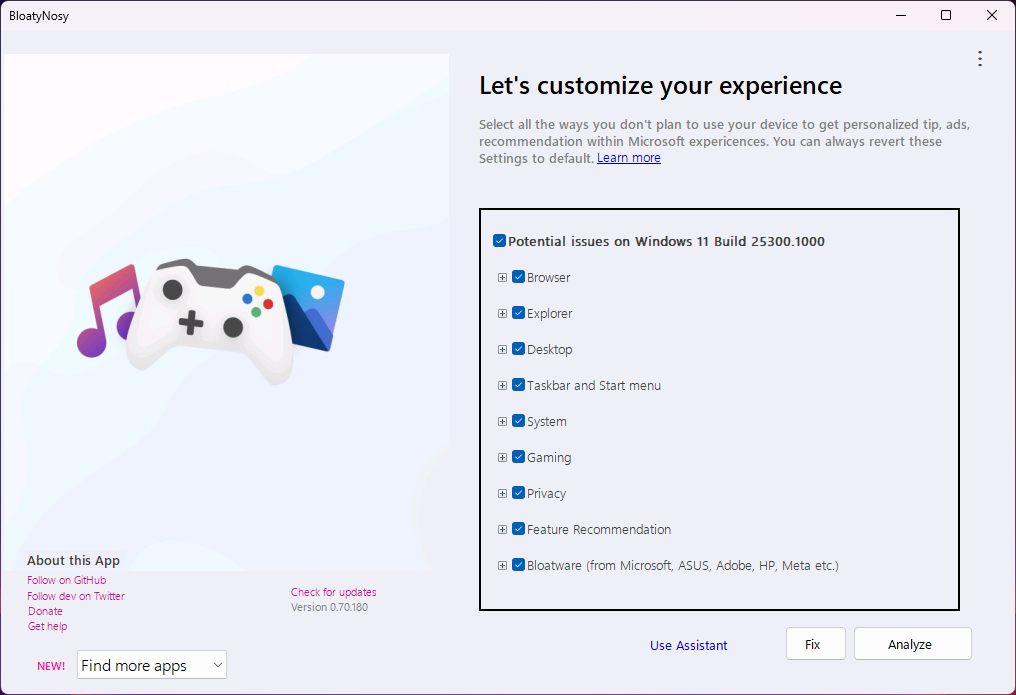 ROG Ally's engine runs on Windows 11, a powerhouse filled with a bewildering array of toggles and settings options. For the average user, locating these features, understanding their function, and deciding whether to enable or disable them can be a daunting task. That's why ROG Ally users need BloatyNosy, a user-friendly solution to navigating the labyrinthine landscape of Windows 11.
With BloatyNosy, every essential setting finds a home under one convenient app. Want to streamline your system and trim the fat? It's as simple as a click, allowing you to disable and erase unneeded features effortlessly.
Here's what BloatyNosy offers:
Windows 11 Setup/Assistant: Click on the link "I want to set up Windows 11 for the first time" in the lower right corner, and you'll summon a step-by-step guide to customize your system and debloating it to your liking.
Auto-Analyze Functionality: Prefer the app to take the reins? The main page module will conduct a comprehensive analysis, identifying and fixing a multitude of unnecessary components, leading to a lean and optimized Windows 11.
BloatPilot App Integration: This feature equips you with the ability to purge pre-installed apps, either automatically or manually, keeping only what's necessary.
WinModder App: Flex your customization muscle with this addition, applying PowerShell-based code snippets and community scripts to fine-tune your system.
InstaPackage Installer: Need to set up key apps in a hurry? With InstaPackage, bulk installations of essential applications are just a click away.
G-Helper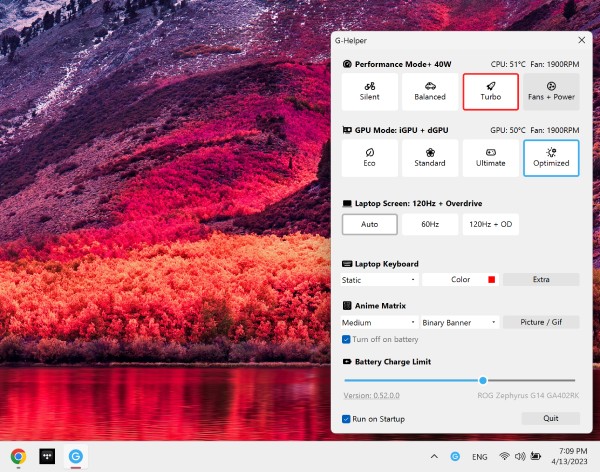 Searching for an alternative to Armoury Crate for your Asus laptops and ROG Ally? Look no further than G-Helper, a sleek and streamlined solution offering almost all of the same functionalities without the baggage of extra bloat or unnecessary services.
Smooth GPU Transitions: Seamless and automatic GPU switching ensures optimal performance without a hitch.
Tailor-Made Performance Modes: Customize power limits and fan curves to match your desired performance modes.
Super Lightweight: No unnecessary installations here. Simply run a single executable, and you're good to go.
User-Friendly Interface: A clean, native UI offers effortless access to all settings, making adjustments a breeze.
Functionality at Your Fingertips: Benefit from FN-Lock and custom hotkeys for added convenience.