The GPD WIN 4 is a sliding handheld PC that runs Windows 11 Home. It comes in 2 versions with different chips, AMD Ryzen 7 7840U and Ryzen 5 7640U. The 2023 version has many improvements.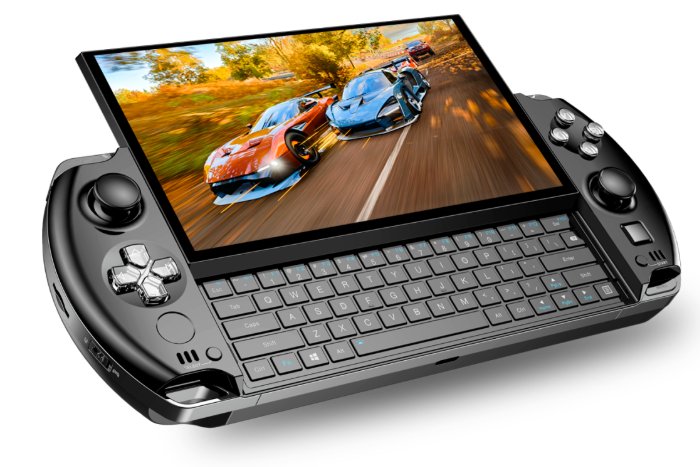 GPD WIN 4 Specs
CPU:

AMD Ryzen 7 7840U, 12CUs, 768 shaders
AMD Ryzen 5 7640U, 8CUs, 512 shaders

GPU:

AMD Radeon 780M, 12 RDNA 3 compute units
AMD Radeon 760M, 6 RDNA 3 compute units

Display: 6 inches, 1920 x 1080 pixels, 16:9, 1080P, 368 PPI, Slider (covers a physical keyboard)
RAM: 16GB/32GB/64GB, LPDDR5x 7500 MT/s
Storage: 512GB / 2TB / 4TB M.2 SSD
Input: Touchscreen, Joysticks, Backlit QWERTY Full Keyboard, Scissor-Switch keys, 2 Programmable Back Buttons
Battery: 45.62 Wh
Ports: 1 x Oculink Interface, 1 x USB4 (40 Gbps), 1 x USB 3.2 Gen 2 Type-C, 1 x USB 3.2 Gen 2 Type-A, 1 x microSD card slot, 1 x 3.5mm audio jack
Wireless: WiFi 6, Bluetooth 5.2, 4G LTE (optional)
Audio: AAC Dual Linear Speakers, 3.5mm audio jack, built-in mic
OS: Windows 11, SteamOS
Dimensions: 220 x 92 x 28mm
Weight: 598g
The new version of the GPD Win 4 has the same look as last year but has received some cool upgrades like LPDDR5x-7500 memory and chipsets.
Ryzen 5 Version: This entry-level model has a Ryzen 5 7640U processor with 16GB RAM and 512GB storage. It's priced at $830, but you can snag it for $130 less during crowdfunding. This processor comes with 6 AMD Zen 4 CPU cores and 6 RDNA 3 compute units. It's only available in black.
Ryzen 7 Versions: If you're looking for more performance, Ryzen 7 models are available ranging from $840 (32GB RAM, 512GB storage) to $1300 (64GB RAM, 4TB storage). And guess what? These are discounted from the original retail prices of $970 and $1500.
If you're a DIY person, models with less than 4TB of storage let you upgrade on your own using the accessible M.2 2280 slot.
The RAM is fixed, but the good news is that even the most affordable models have 16GB of RAM (more than enough for gaming needs).
GPD added an Oculink port supporting 63 Gbps data transfer speeds, perfect for hooking up something like their GPD G1 eGPU.
The USB Type-A port was ditched to make room for this new connector, but all other specs remain similar to the original.
Other handy features include a 40 Gbps USB4 Type-C port, audio jack, microSD card reader, a cooling fan, fingerprint sensor, and an optical touch sensor for navigation (works like a mini trackpad).
No webcam here, but there's a microphone for voice chat and stereo front-facing speakers.
The gaming controls will feel right at home with dual analog sticks, a D-Pad, action buttons, and linear analog triggers.
Unlike the previous GPD Win 3 model, this one sports physical keys on the keyboard and even includes a backlight for those late-night gaming sessions.
The GPD WIN 4 comes with an intelligent docking station, making it a versatile gadget. This isn't just a place to charge it. You can connect it to the internet, hook it up to an external display, and much more. Everything you need is right there in one spot!