In the high-stakes world of handheld gaming, two devices stand out from the crowd: the Asus ROG Ally and the Valve Steam Deck. Offering unique yet equally compelling experiences, these two powerhouses have been designed with different gamers in mind.
The Asus ROG Ally offers a PC-like experience with superior performance for heavier games and multitasking, while the Valve Steam Deck provides a console-like feel with better battery life and a more comfortable form factor for portable gaming.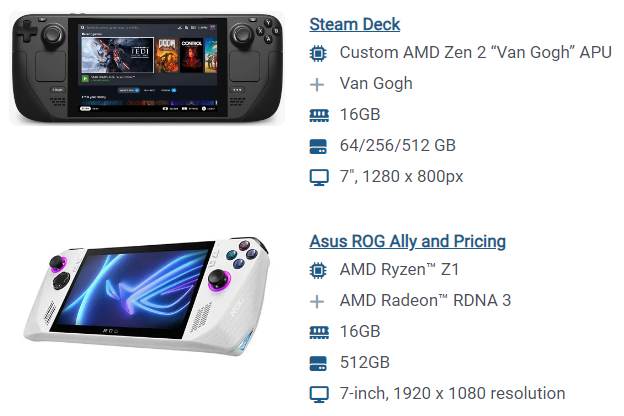 Let's look into the intricate details of each device to help you decide which one best suits your gaming lifestyle.
ROG Ally vs Steam Deck
| Feature | Asus ROG Ally | Valve Steam Deck |
| --- | --- | --- |
| Display | 7″ 1080p display, VRR Support | 7″ 800p display |
| Form Factor | Less ergonomi,c may require additional grips | Comfortable and familiar, similar to console controllers |
| Performance | Strong performance especially in 10-20W range after recent update | Good but not exceptional performance |
| Cooling Fans | Between noisy and quiet, average noise level | Built-in fans can be noisy |
| Battery Efficiency (fps/W) | Not as efficient, shorter gaming sessions | Great efficiency across the range, enabling longer sessions |
| Controls | No touchpads, might limit navigation in some games | Includes touchpads for convenient navigation |
| Operating System | Default is Windows 11, more PC-like experience | Default is Steam OS, more console-like experience |
| Gaming Capabilities | Superior for running heavier games, multitasking | Better for battery life and portable gaming |
| Pricing | $599/$699 | $399/$529/$649 |
Both devices have their strengths and weaknesses, and the best choice depends on your gaming needs and preferences. If you're after a console-like experience with better battery life, go for the Steam Deck. However, if you value performance and multitasking, the ROG Ally would be your best bet.
Steam Deck: Gaming on the Go
When it comes to handheld gaming devices, Valve's Steam Deck is a surefire bet. The first thing that catches your eye is the gorgeous 7-inch display.
Even though the resolution of 800p doesn't quite reach the full HD standard, it does provide a vibrant and visually engaging gaming experience.
It's important to note, however, that the absence of a Variable Refresh Rate (VRR) may result in a bit of flickering, especially if you're accustomed to higher refresh rates.
Taking a deeper dive into the Steam Deck's design reveals a thoughtfully planned ergonomic layout. The console's form factor, which echoes the Xbox controller or Sony Dualsense, fits perfectly into your hands, ensuring hours of comfortable gaming.
Valve has also paid meticulous attention to the arrangement of controls. All key buttons—be it the D-pad, the ABXY group, or the analog sticks—are located on one line for effortless reach. What's more, the R1 and R2 buttons are deliberately placed at different altitudes, giving your fingers a clear tactile distinction between them.
The performance of the Steam Deck is quite adequate, though not necessarily spectacular. It's able to run a fair share of modern AAA games, but it won't offer you the luxury of toggling between 30 fps with richer graphics or 60 fps with reduced detail.
The prime focus should be on whether your chosen game can hold a steady 30 fps. Speaking of emulation performance, the Steam Deck does a decent job but it isn't going to shatter any records.
There's a bit of a noise factor when it comes to the Steam Deck's built-in Delta fans, but thankfully, there are other fans that users can replace to make it quieter like Huaying fans.
Another impressive feature of the Steam Deck is its remarkable fps/W ratio. This makes for energy-efficient gaming, allowing you to enjoy longer play sessions without worrying about battery life.
Also, the inclusion of touchpads is a handy addition for easier navigation, particularly beneficial for games that aren't optimized for gamepads.
When it comes down to it, the Steam Deck is essentially a console, albeit a portable one. Its default operating system, Steam OS, provides the flexibility to switch from desktop mode for more intricate tasks to console mode for uninterrupted gaming.
So, if you're seeking a console experience that you can carry in your pocket, the Steam Deck is a dependable choice. Do keep in mind, however, that multitasking capabilities are somewhat limited, which is expected given its primary role as a gaming device.
ROG Ally: Handheld for AAA Games
Asus's ROG Ally shines in its own right. It shares a similar 7-inch display with the Steam Deck, but it steps up with a 1080p resolution. This option provides a crisp and detailed image, improving the gaming experience immensely.
Not to forget, the Ally is equipped with Variable Refresh Rate (VRR), which means you can say goodbye to flickering issues and hello to a potential smooth 120 fps gaming in less demanding or optimally tuned games.
The form of the console isn't quite as comfortable as the Steam Deck. While it's not a deal-breaker, finding additional grips might enhance the experience. The performance of the ROG Ally initially appears on par with the Steam Deck, especially in the 1-15 W range.
However, after a recent update, the Ally now outperforms the Deck in the 10-20 W range, which makes it a superior choice for running heavier games.
The fans on the Ally strike a balance between the noisy Deltas and the quiet Huayings found on the Steam Deck. The fps/W ratio isn't as favorable, leading to shorter gaming sessions.
There's also the notable absence of touchpads, which might limit navigation options in some games.
With Windows 11 OS as its default, the ROG Ally functions more like a PC in a gamepad's body, enabling multitasking and offering a wide variety of games designed for Windows. It might not be as portable or as long-lasting as the Steam Deck, but it certainly brings PC gaming capabilities to your fingertips.