The Steam Deck from Valve is a handheld PC that can play a wide variety of games from the Steam catalog. But the greatness of this device doesn't end there. Since its release in early 2022, many accessories have been developed to make your Steam Deck experience even better.
The Steam Deck comes with everything you need for a great gaming experience, including a durable case and a fast power adapter. However, there are a few additional accessories that can enhance your gaming even more.
Prevent Damage with Screen Protectors
The Steam Deck, like any other tech device, is made up of delicate parts. One component that needs extra care is its 7-inch screen, which is covered in glass. Accidental damage to the screen can easily happen, so it's essential to take precautions.
We strongly suggest getting a set of tempered glass screen protectors for added protection. Trusted brands like amFilm offer reliable shields that can prevent scratches and impacts that might harm your screen. Keep in mind that replacing the screen can be expensive, so investing in screen protectors is definitely worth it.
amFilm 3 Pack Screen Protector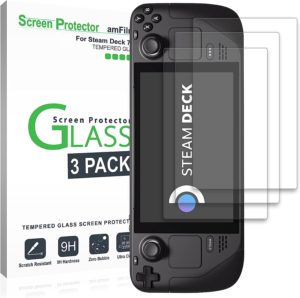 This screen protector offers an ultra-clear High Definition experience with an impressive 99.9% transparency, ensuring a natural and immersive viewing experience.
With its ultra-thin design, measuring just 0.3mm in thickness, this screen protector is not only reliable and resilient but also guarantees full compatibility with touchscreen sensitivity. You can enjoy the same smooth and responsive touch experience as if the protector wasn't there.
Durability is a key feature of the amFilm 3 Pack Screen Protector. It boasts a surface hardness of 9H, making it highly resistant to scratches. Additionally, it is topped with an oleophobic coating, which helps reduce fingerprints and smudges, keeping your screen clean and clear.
JSAUX Tempered Glass Screen Protector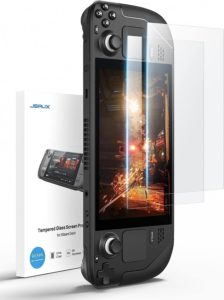 View on Amazon
The JSAUX Tempered Glass Screen Protector is designed exclusively for the Steam Deck. It covers the entire 7-inch screen with tempered glass to keep it safe.
This screen protector is exceptionally sturdy, having undergone heat reinforcement at 500℃ for multiple hours. This makes it five times stronger than standard screen protectors, which only go through the process once.
The protector doesn't interfere with your viewing experience – it has 99.99% transparency, offering ultra HD clarity without any distortions or imperfections.
With a hardness rating of 9H and additional reinforcement, this protector offers excellent defense against bumps and scratches for your Steam Deck's screen.
Moreover, the protector comes with an oleophobic coating to resist fingerprints, ensuring your screen always stays clean and smudge-free.
Cases for Your Steam Deck
Many different kinds of protective cases, both soft and hard, are available for your Steam Deck. Companies such as Dbrand and Jsaux provide a range of protective covers that do more than just keep your device safe.
They also offer useful features like a stand for easy viewing or extra space for storage. So, no matter if you like a sturdy, tough cover or one that you can customize, there's a perfect case to meet the preferences of every Steam Deck user.
dbrand Project Killswitch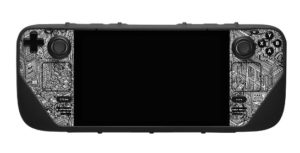 View on dbrand
Introducing the slim and sleek accessory from dbrand: Project Killswitch. Unlike many other bulky accessories, Project Killswitch is incredibly thin, adding almost no extra thickness to your Steam Deck. To give you an idea, the thickness of this item is about the same as a five-cent coin, which equates to roughly two millimeters. This ultra-thin design ensures that your device maintains its sleek profile.
Project Killswitch also stands out for its impressive durability. It has been crafted to offer the kind of strength that can withstand a significant impact. To put it into perspective, consider the annual U.S. Military expenditure, which is a mind-boggling 700 billion dollars. Yet, by spending just a tiny fraction of this sum, you can provide similar robust protection to your Steam Deck. Talk about getting a strategic advantage!
Let's talk about its portable cover – a practical solution for those leading an on-the-go lifestyle. The portable cover from Project Killswitch is designed to keep your Steam Deck safe and sound when not in use, much like the original protective case from Valve.
Spigen Rugged Armor Pro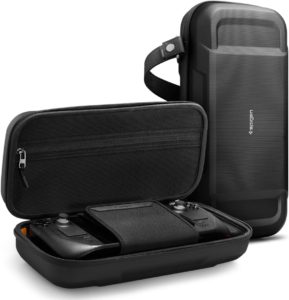 View on Amazon
The Spigen Rugged Armor Pro is specially crafted for the Steam Deck. It's a strong cover made from a mix of polyurethane (PU), ethylene-vinyl acetate (EVA), protective foam, and anti-scratch nylon materials. The casing is enhanced with orange foam at the corners to provide additional safeguarding against drops.
There's a built-in ring for attaching an external strap, and it also includes a zippered mesh section for your charger. A secret pouch for a tracking device is also tucked away in there.
The case has a Velcro strap with a soft suede lining on the inside, which provides a steady hold and prevents screen scratches. There's also an undercover pocket beneath. Please note, this case is specifically designed to fit the Valve Steam Deck and may not be suitable for other devices.
Extend Storage with SSD and microSD
SanDisk 512GB Extreme Pro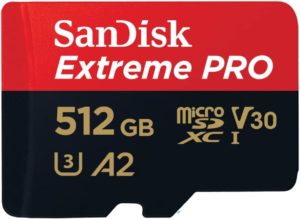 The Steam Deck, with its highest price of $649, has a maximum of 512 GB SSD storage. However, considering that computer games often need 30-60 GB of space, it's almost a must to have extra storage. By buying a microSD card, you can greatly expand the space you have for games. SanDisk and Samsung are among the companies that provide dependable and affordable microSD cards.
One such card is the SanDisk 512GB Extreme Pro. This card comes with SanDisk QuickFlow Technology, which enhances its performance and allows for fast data transfers with a read speed of up to 200MB/s. It also boasts a write speed of up to 140MB/s, allowing you to take quick photos or record 4K UHD video, making it easy to do more in less time.
Another advantage of the SanDisk Extreme Pro microSD card is its A2 Specification, which speeds up app performance for a better user experience on your smartphone.
Not only does it have great performance, but the SanDisk Extreme Pro microSD card is also very durable. It's designed to be shockproof, temperature-proof, waterproof, and X-ray-proof, so you don't have to worry about its toughness while on your adventures.
Corsair MP600 Mini 1TB M.2 NVMe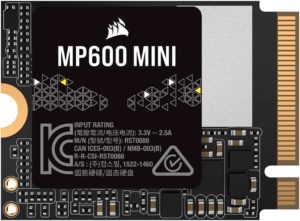 If you're comfortable with tinkering with the inside of your Steam Deck, adding Corsair's MP600 Mini 1 TB M.2 SSD is a cost-effective way to increase your storage space. Just keep in mind, you'll likely need specific tools, like the iFixit Essentials toolkit, to safely open your Steam Deck.
The Corsair MP600 Mini 1TB M.2 NVMe is compact (M.2 2230 form factor), making it fully compatible and an excellent upgrade for the Valve Steam Deck, Microsoft Surface, and other slim devices.
With its extreme Gen4 storage performance, a PCIe Gen4 x4 controller enables up to 4,800MB/sec sequential read and write speeds, offering quick data access and storage.
This upgrade can help your PC operate faster, enabling quicker game loading, operating system booting, and file opening and transferring.
Using the high-speed Gen4 PCIe x4 NVMe 1.4 M.2 Interface and PCIe Gen4 technology, the MP600 Mini provides excellent storage performance due to its maximum bandwidth.
Gaming in Comfort with Wireless Accessories
Given that the Steam Deck is heavier than the Nintendo Switch, having a stand to prop it up can enhance your gaming comfort, especially if you prefer using a wireless controller. The Deck supports a wide range of controllers, whether connected via Bluetooth or USB. Controllers from Xbox, PlayStation, and even Nintendo's Switch Pro Controller are all officially supported. And there's a vast array of stands available on the market, so you can easily find one that suits your budget and aesthetic preferences.
If you want to use Steam Deck's desktop mode or play emulated games, having a small wireless keyboard can make a big difference. Typing on the Deck's screen can be difficult, especially if you have big fingers. But with an all-in-one keyboard that folds and has a trackpad, you can have a much easier and more convenient experience.
8Bitdo Ultimate Bluetooth Controller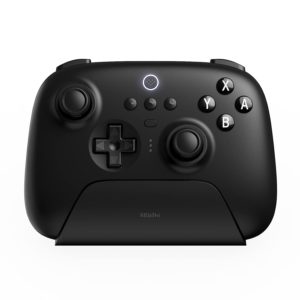 View on Amazon
Consider the 8Bitdo Ultimate Bluetooth Remote, it can work with the Steam Deck using Bluetooth, a 2.4g adapter, or a USB cable. It also works with Windows computers using either the 2.4g adapter or a USB cable.
There's also a versatile Charging Stand which provides a steady connection and the gamepad will automatically turn itself ON or OFF as it's removed or placed on it.
It features a Hall Effect Sensor Joystick, two professional back paddle keys, a button to change personalized settings, player lights, and a two-way mode selection button.
This controller also has motion control, a rumble feature for feedback, a USB-C connection, and a battery that can go 22 hours before needing to be charged again.
iClever Foldable Keyboard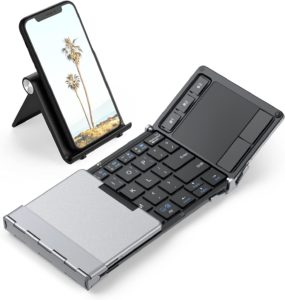 View on Amazon
This keyboard is incredibly portable (measuring 6.2×3.5×0.7 inches and weighing just 0.48lbs – about the size and weight of an iPhone), making it easy to take with you anywhere. It also comes with a built-in stand to hold your smartphone, adding to its convenience.
The keyboard is powered by a rechargeable battery that uses a USB-C port for charging. It's eco-friendly and perfect for long trips with a battery life that can last up to 30 days when used for 2 hours daily.
With a scissor-switch design for keys, it offers excellent feedback and stability for comfortable, quiet, and precise typing. The keys are well-spaced and feature anti-slip tapes to avoid mistakes while typing.
Big Screen Gaming with Docks
In order to play Steam Deck games on a TV or a monitor, you will need a dock. There are many options available on the market, with different prices and features. Docks not only allow you to project your game onto a bigger screen, but they also provide USB ports for connecting peripherals. This means that you can use your Steam Deck as a more traditional console or even a desktop computer.
Valve offers its own Deck Dock, which is packed with features such as HDMI 2.0, DisplayPort 1.4, a USB-C power port, a gigabit Ethernet port, and three USB-A 3.1 ports. However, if you are on a budget, brands like Anker and Jsaux offer similar features at lower prices.
JSAUX Docking Station for Steam Deck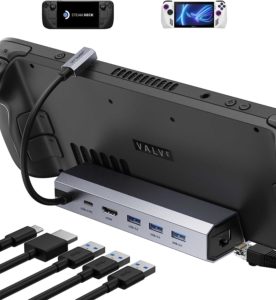 This JSAUX Docking Station is a versatile 7-in-1 hub for your Steam Deck. It boasts an HDMI output that supports 4K resolution at 60Hz, a DisplayPort output also supporting 4K at 60Hz, an input for Gigabit Ethernet, three USB-A 3.2 slots, and a USB-C slot for powering your devices.
With the 4K@60Hz HDMI output, you can connect your Steam Deck to an external 4K monitor for a crystal clear and buttery smooth gaming experience. The dock also supports high-speed Gigabit Ethernet connections, allowing you to link your Steam Deck to your network for quicker upload and download speeds than typical Wi-Fi connections.
The docking station features advanced USB 3.2 technology. With data transfer speeds of up to 5Gbps, this technology allows for quicker and more complicated transfers, offering a smoother experience when using external gaming devices.
Power Up with Portable Batteries
Certain batteries can power up the Steam Deck as fast as the standard 45W charger that comes with it. Companies such as Baseus and Anker manufacture high-storage batteries with remarkable charging rates that can refill the Deck's battery several times over.
Anker 537 Portable Charger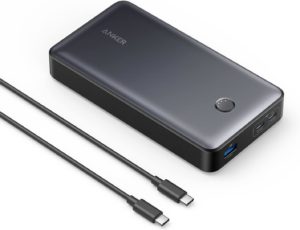 View Anker 537 on Amazon
The Anker 537 is a great portable power bank designed for any mobile device, including the Steam Deck. It offers speedy charging thanks to its impressive 65W power output and dual USB ports. This means it can quickly charge two devices that need a lot of power at the same time.
With a big battery size of 24,000mAh, it can hold plenty of charge. Plus, it's also capable of enabling 30W mode for the ROG Ally device.