If you're one of the lucky ones who own a Steam Deck, you know that it's more than just a simple handheld game console. It's a veritable entertainment powerhouse, capable of delivering an amazing gaming experience as no other device can. But to get the most out of your Steam Deck, you need to have the right accessories. Here are essential types of accessories that every Steam Deck owner should have.
Essential Steam Deck Accessories
Here are the most essential accessories: An Xbox game controller, A 2TB microSD card, A protective case, A carrying case, A power bank, A screen protector, A docking station
An Xbox game controller
If you want to get the most out of your Steam Deck, then you need to have an Xbox game controller. The Steam Deck is compatible with any Bluetooth-enabled controller, but an Xbox game controller is by far the best option.
The Xbox wireless controller is the perfect way to enjoy your favorite Steam games on your TV. It's comfortable to hold, has great ergonomics, and offers a level of precision that other controllers simply can't match.
The controller also offers great battery life, so you can play for hours without having to worry about recharging.
Recommended: Xbox Core Wireless Controller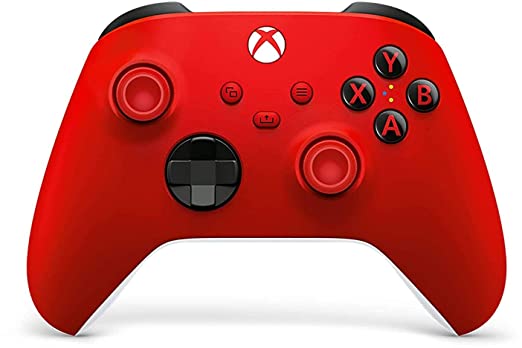 The Xbox core wireless controller in Pulse red is a sleek and modern take on the classic design. It features sculpted surfaces and a refined geometry for enhanced comfort and effortless control during gameplay.
The hybrid D-pad is great for precision, while the textured grip on the triggers, bumpers, and back-case provide extra comfort and support. You can also plug in any compatible headset with the 3.5mm audio headset jack.
The USB-C port allows for direct plug and plays to a console, and support for AA batteries is included on the rear.
A docking station
Steam Deck needs a dock to output display to an external monitor. By connecting the Steam Deck to your TV or monitor, you can enjoy big-screen gaming without having to sacrifice the quality of graphics or sound. The Steam Deck comes with a built-in HDMI port, so all you need is a standard HDMI cable to connect it to your TV.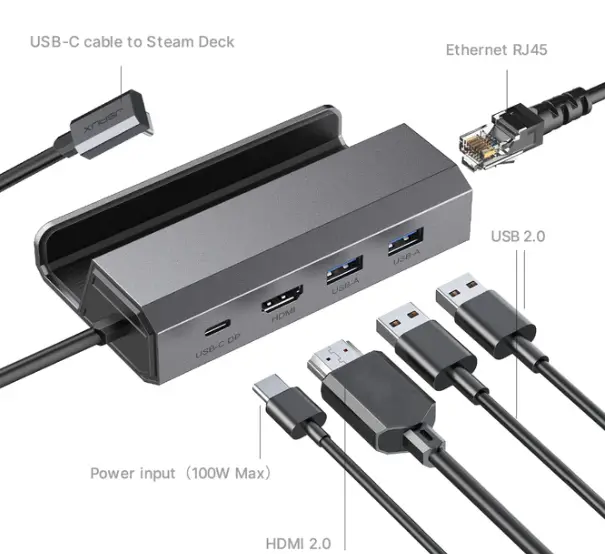 Valve has announced an official docking station for the Steam Deck. However, it is currently delayed owing to component shortages and COVID closures at Valve's production plants.
In the meantime, we can wait for a third-party docking station or just use an HDMI cable to the output display.
A 2TB microSD card
The top-tier model of the Steam Deck comes with 512GB of internal storage, but that's not nearly enough if you want to download and install a lot of games.
While 512GB of storage will give you plenty of room to grow, it's not nearly enough if you want to install some of the newer and larger games on the Steam platform. Titles like Elden Ring and God of War can take up over 50GB of storage, so you'll need something with a lot more space if you want to be able to play them.
A 2TB microSD card will give you plenty of room to grow, and it's not too expensive either.
A protective case
Your Steam Deck is an important investment, so you'll want to keep it safe and sound. A protective case is a great way to do that. There are many different types and styles to choose from, so take your time and pick one that you really like.
A high-quality case will help your Steam Deck last for years to come. So, don't hesitate to invest in a good case – it's worth it in the long run!
A carrying case
A carrying case is an important accessory for taking your Steam Deck on the go. There are many different types and styles to choose from, so find one that suits your needs and preferences. Carrying cases come in a variety of materials, including cloth, leather, and plastic. They also vary in terms of size, with some designed to hold just a few cards while others can accommodate an entire deck.
When selecting a carrying case, be sure to consider how you will be using it. If you plan on taking your deck to tournaments, look for a case that has extra space for dice, tokens, and other gaming accessories. If you just want a simple way to protect your cards while traveling, a basic card holder will suffice.
No matter what type of carrying case you choose, it should help to keep your cards safe and organized while you're on the go.
A power bank
A power bank is absolutely essential for anyone who owns a mobile device. And the Steam Deck is no different. A good quality power bank will keep your Steam Deck charged and ready to use, even when you can't find an outlet.
No one wants to be caught without a charge, and a power bank will make sure that never happens. Whether you're on a long flight or stuck in a meeting, a power bank will give you the peace of mind of knowing that your phone will always be charged and ready to use.
A screen protector
A screen protector is an important purchase for anyone with a small electronic device. The Steam Deck's screen, for example, is quite small. Without a screen protector, it would be much more susceptible to scratches and other damage.
There are many different types and styles of screen protectors to choose from. Do some research before you buy one to find the one that best suits your needs. You'll be glad you did when your Steam Deck's screen is still looking good as new.