AYANEO Kun is a new handheld that is expected to be relased in September 5, 2023.
The Ayaneo Kun offers a significantly longer battery life compared to the Steam Deck and ROG Ally, but it comes with a higher price tag that is nearly double the cost of Steam Deck.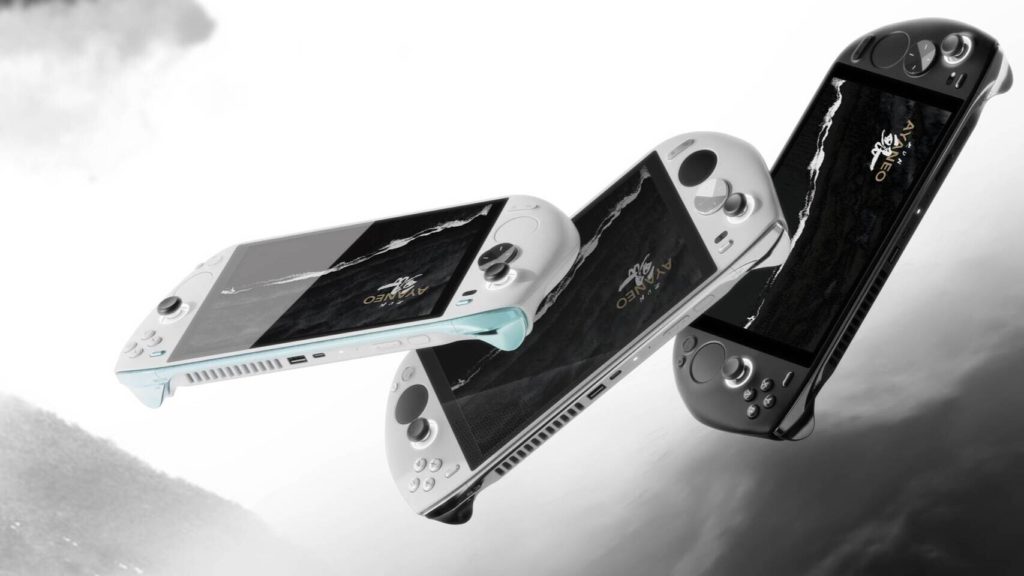 AYANEO Kun Specs
CPU: AMD Ryzen 7 7840U, 8C/16T up to 5.1 GHz, Support for 15W, 30W, 54W modes
GPU: AMD Radeon 780M, RDNA3 12 CUs
Display: 8.4-inch IPS panel display with a resolution of 2560 x 1600 pixels, 500 nits
RAM: 16/32/64GB
Storage: 512GB / 1TB / 2TB/ 4TB, M.2 2280, PCIe 4.0 SSD
Input: D-Pad, two Hall sensor-equipped joysticks, shoulder buttons with Hall sensor technology, touchpads on either side of the display, A/B/X/Y keys, and 4 additional buttons at the back of the device with customizable functions
Battery: 75Wh
Ports: 1 x USB4, 1 x USB 3.2 Gen 2 Type-A, 1 x 3.5mm audio, 1 x microSD card reader, 1 x SIM card slot (behind the kickstand)
Wireless:
Audio:
OS: Windows 11
Dimensions: 312 x 133 x 21.9 mm
Weight: 900g
Features: Windows Hello-compatible IR camera
AYANEO Kun is powered by the latest AMD Ryzen 7 7840U mobile processor, part of the Ryzen 7040 series. The SoC boasts eight Zen 4 cores and an integrated graphics unit based on the RDNA 3 architecture with 12 compute units.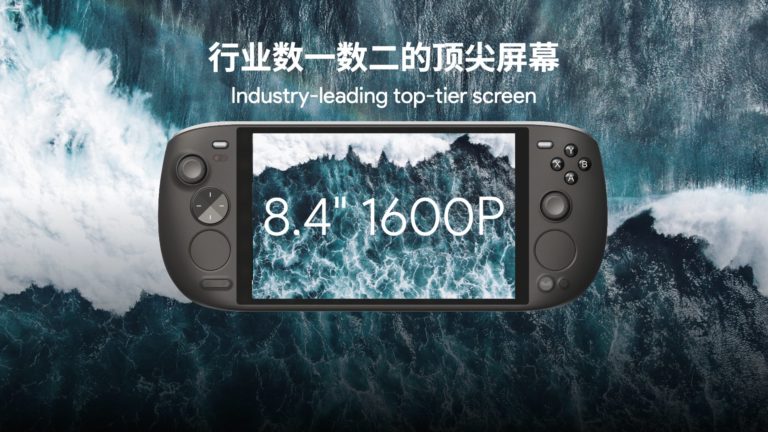 Ayaneo seems to be taking user feedback seriously, especially when it comes to comparing their new handheld, the Kun, with the popular Steam Deck. The Kun is coming out with larger grips for a better hold, along with dual touchpads that feature four separate buttons underneath each. Plus, there are four buttons on the back and more robust triggers for enhanced gameplay.
For a smoother gaming experience, it's got Hall Effect joysticks and triggers designed to minimize drift issues. In terms of haptic feedback, it includes HD linear motors, similar to what you'll find in the Switch and DualSense controllers.
Want to prop it up and go hands-free? The Kun has got a nifty little kickstand that might remind you of the original Nintendo Switch.
But Ayaneo didn't stop at just ergonomics and controls. The Kun also includes a front-facing Windows Hello camera for facial recognition and streaming, a feature mostly absent from other handhelds.
And if you're looking to game on the go, there's an optional 4G module you can get. The device even hides a nano-SIM card slot right under the kickstand for cellular connectivity.
What's remarkable about the Kun is its 75Wh battery capacity, which is notably higher than the 40Wh capacity seen in many other handhelds, suggesting it could offer extended gaming time on a single charge. This battery capacity is significantly larger, about 1.9 times bigger, than the batteries found in both the ROG Ally and Steam Deck.
In addition, to deal with the increased power requirements, the system includes an upgraded cooling solution. It consists of three copper heatpipes and a special 'turbofan' that improves airflow, helping to keep the system cool.
The AYANEO Kun's display is an impressive 8.4-inch IPS panel with a resolution of 2560 x 1600 pixels. The console's control scheme incorporates a D-Pad and two joysticks equipped with Hall sensor technology. In addition, it features shoulder buttons using the same technology.
For connectivity, the Kun provides two Type-C ports (presumably USB4), one USB Type-A port, and one 3.5 mm jack connection, ensuring that users have a range of options for connecting peripherals and other devices.
AYANEO Kun Pricing and Models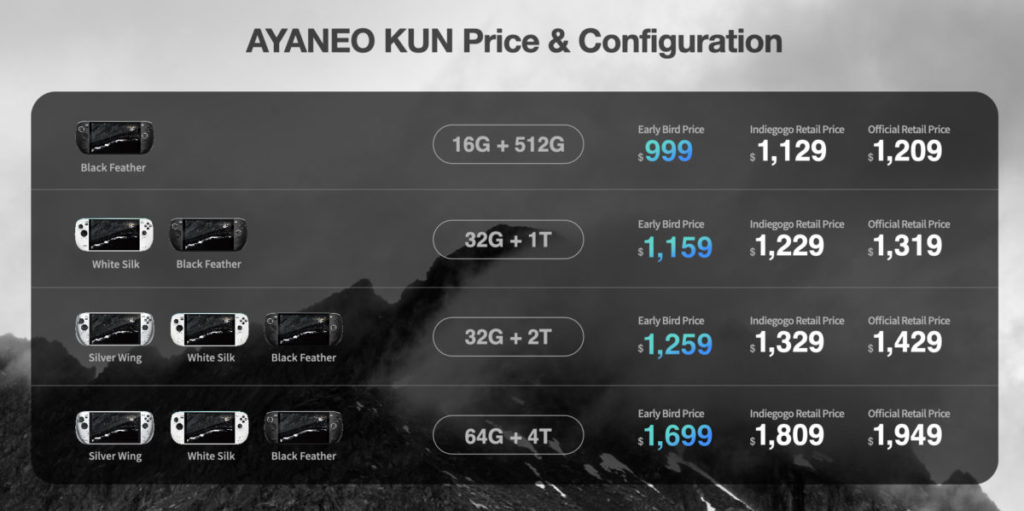 If the features grab your attention, get ready for the price tags. During the initial launch phase, you can snag the base model for $999. But once it hits regular stores, expect that price to jump to $1,209. To give you some context, that's a fair bit steeper than the ROG Ally, which comes in at $699.
In terms of what's under the hood, you'll have a few choices. Memory-wise, there are three options: 16GB, 32GB, or a whopping 64GB. As for storage, it goes up to an impressive 4TB.
And if you're considering going all out, the top-tier model won't come cheap. During the early bird period, it'll set you back $1,699. Miss that window, and you're looking at a $1,949 price tag once it's available in general retail spaces.