With the fiasco about game performance in the latest BIOS version 319, ROG Ally users have been rolling back to version 317 and waiting for a new version.
Asus finally answered with an update to BIOS 322 on July 4th, 2023. You can update the BIOS via MyAsus app.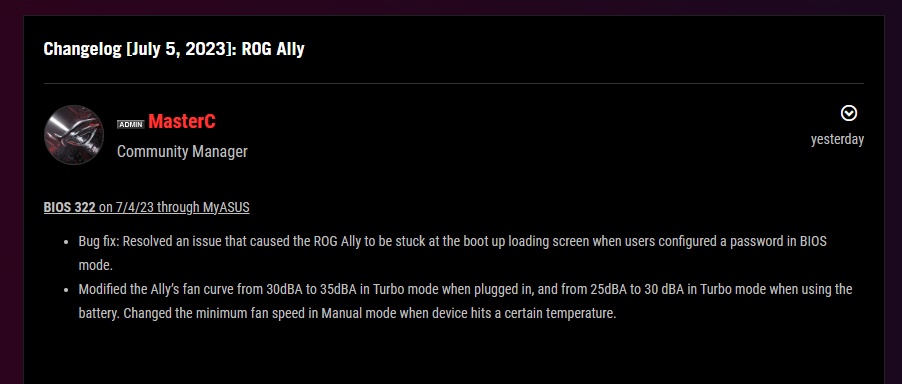 What is New in BIOS 322?
Bug Fix: Resolving Boot-Up Loading Screen Issue
This addresses a persistent problem that users encountered while configuring a password in BIOS mode. Previously, users would find themselves stuck at the boot-up loading screen, rendering their systems unresponsive.
However, with the latest update, this issue has been successfully resolved, ensuring a seamless booting experience for ROG Ally users.
Enhanced Fan Curve and Manual Mode Adjustments
Another noteworthy enhancement in the ROG Ally BIOS 322 revolves around fan management. This is an attempt to fix the fried SD card issue by cooling the system via fan curve tweaks.
ASUS has fine-tuned the fan curve in Turbo mode for both plugged-in and battery-powered scenarios.
When the device is connected to a power source, the fan curve has been modified from 30dBA to 35dBA, providing improved cooling performance under intense gaming or resource-intensive tasks. When using the battery, the fan curve has been adjusted from 25dBA to 30dBA, striking a balance between cooling efficiency and battery life preservation.
ASUS has introduced changes to the minimum fan speed in Manual mode. When the device reaches a specific temperature, the BIOS will automatically adjust the fan speed to ensure effective heat dissipation. This intelligent adjustment ensures optimal cooling performance while maintaining the device's stability.