We are excited to introduce the all-new OneXPlayer Mini Pro. The OneXPlayer Mini Pro introduces more power and portability in one package with Ryzen 7 6800U which features 8-cores / 16 threads, and up to 4.7 GHz speed.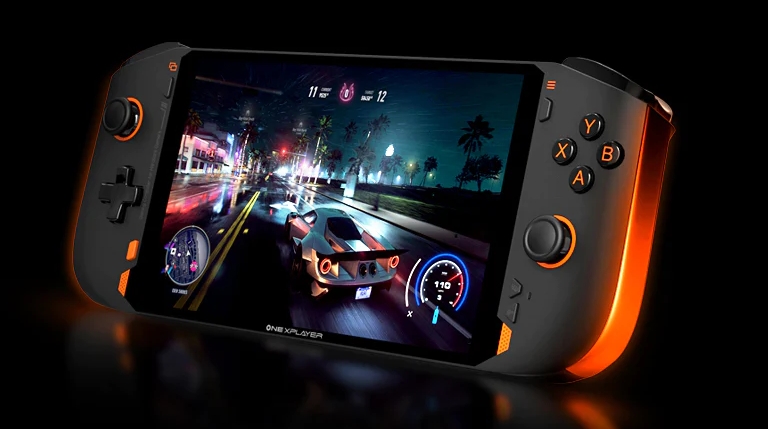 OneXPlayer Mini Pro Specs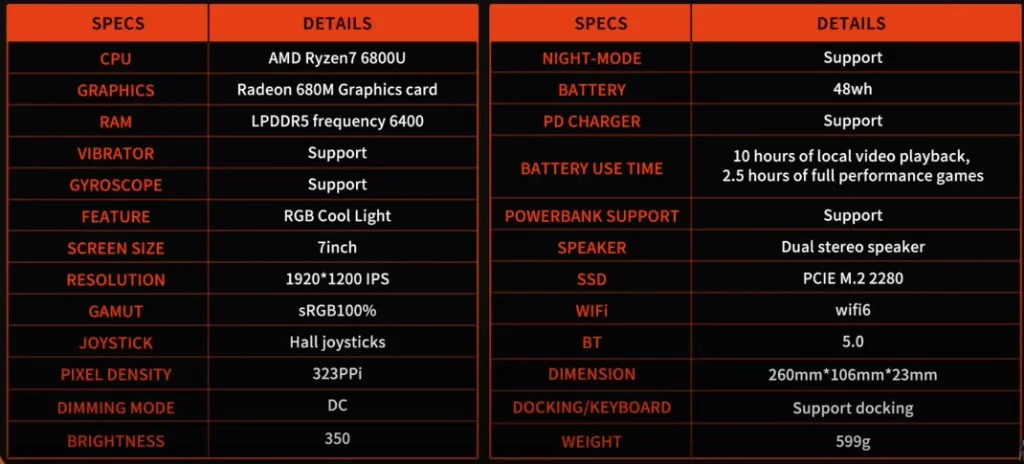 CPU: AMD Ryzen 7 6800U, 8-cores / 16 threads, Up to 4.7 GHz, 15-28W TDP
GPU: AMD Radeon 680M, 12 RDNA 2 cores, Up to 2.2 GHz
RAM: 16GB or 32GB, LPDDR5-6400
Storage: 512GB / 1TB / 2TB, PCIe 3.0 NVMe SSD, M.2 2280 slot
Display: 7 inches, 1920 x 1200 pixels, 323ppi, IPS LCD, 100% sRGB color gamut, 350 nits
Battery: 48 Wh
Ports: 2 x USB 4 Type-C, 1 x USB 3.0 Type-A, 1 x 3.5mm audio jack, Optional docking accessory
Speakers: Stereo, front-facing
Wireless: WiFi 6, BT 5.0
Dimensions: 260 x 106 x 23mm
Weight: 599 grams
The AMD Radeon 680M GPU is perfect for gaming and video editing, and the 16GB or 32GB RAM ensures smooth performance. With 512GB / 1TB / 2TB of storage, there is plenty of space for all your files and programs.
The 7-inch IPS LCD display with 100% sRGB color gamut and 350 nits is perfect for viewing your favorite movies and shows.
The front-facing stereo speakers provide great sound quality. The WiFi 6 and BT 5.0 connection ensures a fast and stable connection.
The OneXPlayer Mini Pro is also equipped with 2 x USB 4 Type-C, 1 x USB 3.0 Type-A, and 1 x 3.5mm audio jack port. An optional docking accessory is also available.
The OneXPlayer Mini Pro has a 6-axis motion sensor, and game controllers that include analog sticks with hall sensors, shoulder buttons, a D-Pad, and action buttons.
Unlike other members of the OneXPlayer lineup like the Mini, the OneXPlayer Mini Pro does not have a microSD card slot. However, it does have RGB lighting effects that illuminate the sides of the device.
Linux gaming has been on the rise in recent years, thanks in part to the efforts of Steam Deck. This handy piece of software allows users to run Windows-based games on Linux systems with ease. However, it seems that OneXPlayer is content to stick with Windows for the foreseeable game compatibility.
The company's promotional materials indicate that it has no plans to support Linux gaming in the near future. That said, compatibility is unlikely to be an issue for OneXPlayer Mini Pro. This pocket-sized console is designed to run Windows-based games without any hiccups.