The OneXPlayer mini is a handheld PC that allows you to play your favorite video games on the go. Weighing in at only 580g and 1/3 the size of a traditional 12-inch notebook, the new OneXPlayer Mini is not only easy to take with you on the go but packed with enough power to give you the edge you need in any competitive gaming situation. Let's take a closer look at the specs.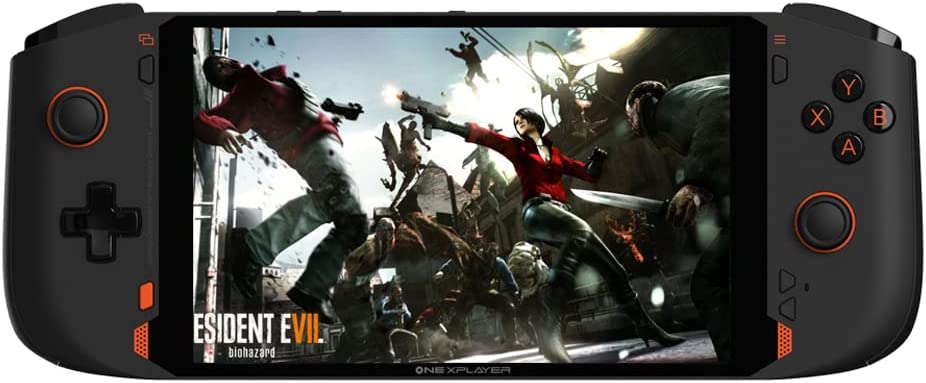 OneXPlayer Mini Specs
CPU: 1th Core Tiger Lake i7-1195G7 4 Cores/8 Threads, Base Frequency 2.9 GHz Max Turbo Frequency Up to 5 GHz or AMD Ryzen 7- 5800U processor, 8 Cores/16 Threads.
GPU: Iris Xe Graphics eligible 96 EUs, Up to 1.4 GHz, DirectX 12.1 OpenGL 4.6 or  AMD Radeon Graphics, 2000MHz.
RAM: 16GB LPDDR4x 4266
Storage: 2TB NVMe 3.0 M.2 2280 SSD
Display: 7 inches IPS 10 points touch support Touch Screen with 1920X1200 Resolution, Pixel Density 323 PPI,72% NTSC Gamut
Battery: 10455 mAh
Weight: ~600g
Ports: 1 x USB-A 3.0, 1 x USB-A 3.2, 1 x 3.5mm audio jack,
The OneXPlayer Mini comes with 2 models with different chipsets: 11th Core Tiger Lake I7-1195G7 and AMD R7-5800U.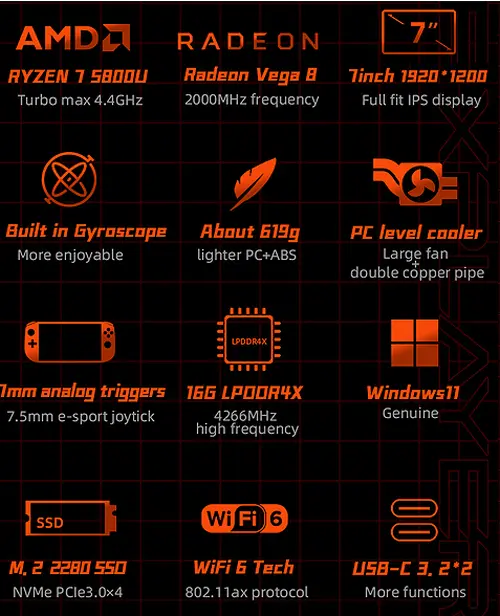 The AMD 5800U model is equipped with an AMD Ryzen 7-5800U processor and AMD Radeon Graphics, making it ideal for gaming, streaming, and other demanding tasks. The base frequency is 1.9 GHz, but it can boost up to 4.4 GHz when needed. Plus, the 2000MHz graphics clock speed ensures smooth and responsive gameplay.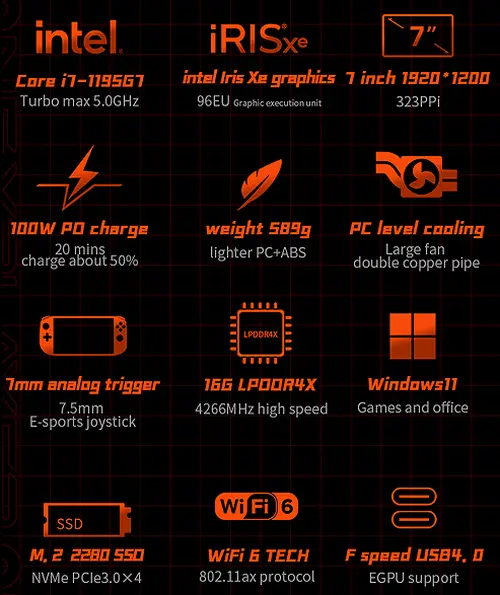 The 11th Core Tiger Lake i7-1195G7 CPU powers the Mini, meaning it can handle pretty much anything you throw at it. With 4 cores and 8 threads, a base frequency of 2.9 GHz, and a max turbo frequency of 5 GHz, this mini machine is no joke. The built-in Iris Xe Graphics are eligible for 96 EUs.
The device is also equipped with 16GB of RAM, making it powerful enough to handle demanding games.
And with a 7-inch IPS 10-point multi-touch support screen with 1920 x 1200 resolution and 323 PPI, you won't miss a single detail. Plus, the 72% NTSC color gamut means your games will look better than ever before.
But what about when you're on the move? No problem! The 10455 mAh battery will give you plenty of gaming time between charges, and when it does come time to plug in, the 65W Gan (Gallium nitride) fast charger will have you up and running again in no time.
The OneXPlayer mini runs on Windows 11 and includes a number of pre-installed apps, such as Netflix, Amazon Prime Video, and Skype. The device also has a microSD card slot for expandable storage.