AYANEO 2 is the first handheld PC gaming device powered by Ryzen 6800U from the popular AYANEO company.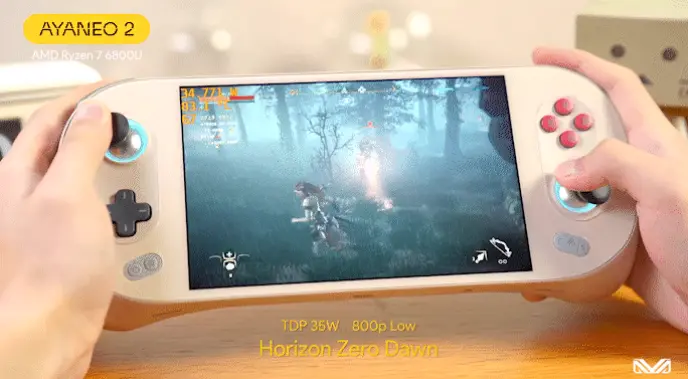 Ayaneo 2 Specs
CPU: AMD Ryzen 6800U
GPU: AMD Radeon 680M (Zen-3)
Display: 8.4-inch IPS no-bezel full display
RAM: 16/32GB, LPDDR5
Storage: 512GB/1TB/2TB
Input: Controllers, Buttons Burst
Battery: 50.25 Wh
Ports: 3 x USB-C ports, 1 x microSD card slot
Wireless:
Audio:
OS: Windows 11, Ayaneo OS
Dimensions:
Weight: 680g
As the first Ayaneo device to launch with the Ryzen 6800U, it's setting the bar for what fans should expect from their devices. The Zen-3-based CPU boasts incredibly fast speeds and provides RDNA2 graphics, allowing you to get the most out of your device.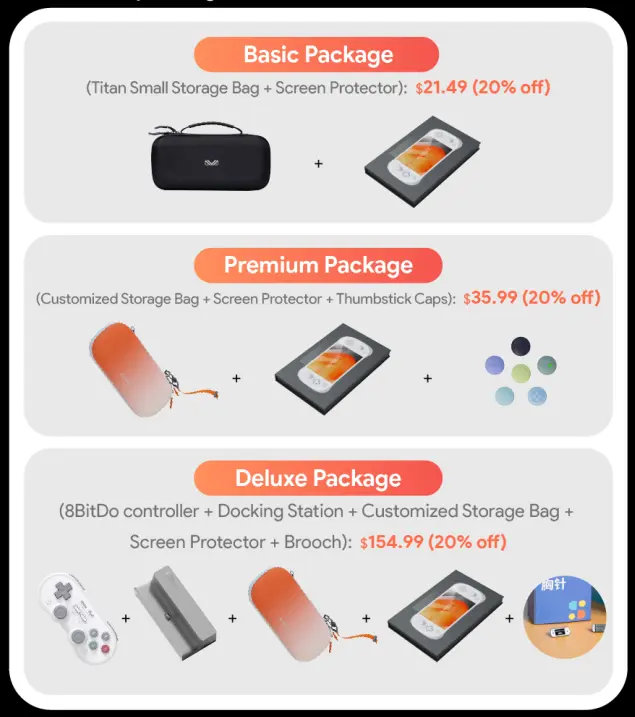 And, with a TDP ranging from 15-32 watts, you can rest assured knowing that your device won't need a lot of power to be able to work its best.
Plus, with full Thunderbolt 4 support, you can easily connect an external GPU if you want even more processing power.
This gaming device has an ultra-HD screen to make sure you can enjoy your favorite games in intense detail and clarity. It has a high color gamut display with a resolution of 1920 x 1200, 323 PPI pixel density, and 400 nits of brightness. And with its enhancements, it easily brings out all the elements from any game masterpiece—from the minutiae of each character's expressions to wide-angle overviews without losing their color and vibrancy—to make sure you don't miss out on any details that give your game experience the best atmosphere and intensity.
The Ayaneo 2 gaming console offers a unique design to integrate games and art together. The front of the device is covered by a single piece of glass that has been carefully selected for its impact resistance, scratch resistance, and high light transmittance.
Not only does this make it look sleek and stylish, but it also serves a practical purpose in protecting the internal screen and body from damage. Additionally, the lamination process makes sure that the entire surface is properly sealed for maximum protection against everyday wear and tear.
When it comes to joysticks, the comfort, and convenience they provide when gaming cannot be understated. With the AYANEO 2, users now have access to highly customizable buttons that allow them to tailor their experience according to their needs and preferences. Its user-friendly design is quick and easy to wield so gamers can concentrate on what matters most—winning!
The LC and RC keys are highly responsive; short presses and long presses will each trigger a different function depending on which key is pressed. Moreover, connected buttons can be linked to load programs or launch games quickly—even turning "=" key into a low-profile shortcut control in one easy click!
The new Ayaneo 2 is set to feature some exciting specs, including LPDDR5 RAM for faster processing and smoother multitasking, WiFi 6 for added wireless convenience, and Bluetooth 5.2 for more stable connections with compatible devices.
It'll also be powered by the brand's own Ayaneo OS which is based on Linux; we anticipate that this new operating system will enjoy better optimization when gaming than Windows 11. Moreover, it'll likely be using Proton so users can find compatibility with more titles offered via Steam Deck.