If you're rocking an Asus ROG Ally, you're already aware of its power and versatility as a portable game console. With its broad game compatibility and the power of Windows 11 under the hood, it's a gaming powerhouse. But, have you considered enhancing your gaming experience with some top-notch accessories? Let's delve into the world of the best Asus ROG Ally accessories.
Best Cases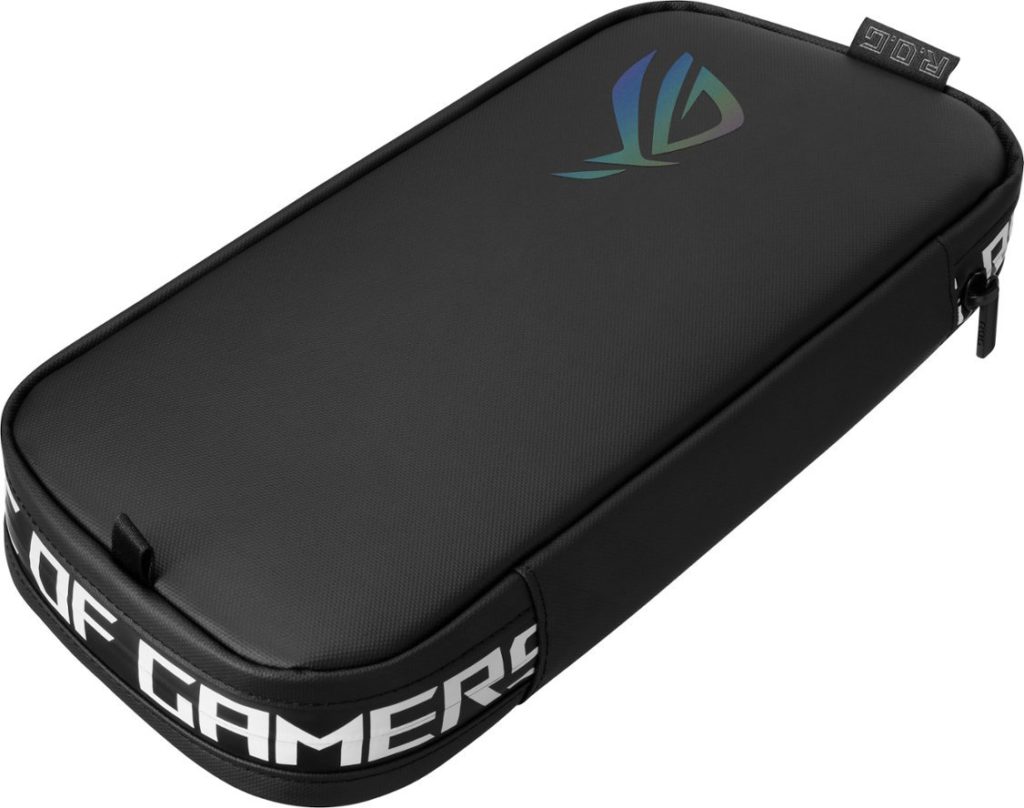 Starting your gaming gear collection with the official Asus ROG Ally Travel Case is a smart move. This case is not just a protective shell for your console, but it's also a statement of style and authenticity. Designed with pride, it sports a holographic ROG logo and is wrapped with a Republic of Gamers branded zipper, making it a perfect companion for your ROG Ally.
The Asus ROG Ally Travel Case is more than just a pretty face. It's built for protection and convenience. The case features a water-repellent coated PU cover and zipper, ensuring your ROG Ally and any accessories stored inside remain dry and safe, even in less-than-ideal weather conditions. The soft inner mesh with a built-in fleece compartment snugly fits the ROG Ally, protecting the screen from scratches and other potential damage.
But the Asus ROG Ally Travel Case doesn't stop at just protecting your console. It also comes with an additional folded tab that includes two pockets for various-sized SD cards and a larger pocket for other accessories. This means you can keep all your gaming essentials in one place, ready for action whenever you are.
This case offers stand mode. You can prop up the middle pocket tab and mount it using velcro to create a stand for playing or watching content on the ROG Ally.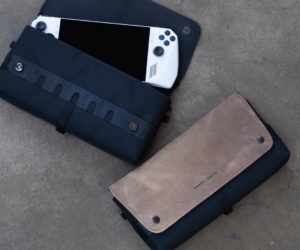 This premium case is more than just a protective accessory; it's a statement of style and sophistication. While it's a bit pricier than other options, the superior quality, design, and added touch of elegance make it a worthwhile investment.
The Waterfield Cityslicker is meticulously crafted in either waxed canvas or ballistic nylon, both known for their durability and resistance to wear and tear. The case is then topped off with a premium full-grain leather flap, adding a dash of luxury to its rugged exterior. This combination of materials not only ensures robust protection for your Asus ROG Ally but also gives the case a professional and stylish look.
The case is designed to fit the Asus ROG Ally precisely, ensuring your console is snug and secure. The attention to detail in the design and construction of the Waterfield Cityslicker case is evident, reflecting the brand's commitment to quality and customer satisfaction.
Best Screen Protectors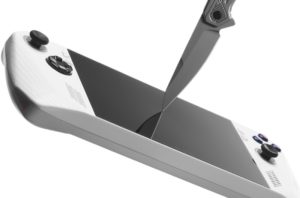 Next on our list is the dbrand Screen Protector for ROG Ally, an accessory that no gamer should overlook. This screen protector is more than just a piece of plastic; it's a shield that protects your console's screen from the wear and tear of daily use. It's an essential accessory that ensures your screen remains as flawless as the day you unboxed your console.
The dbrand Screen Protector is designed to provide maximum protection against scratches, smudges, and minor impacts. Whether it's the accidental drop of a controller or a sudden encounter with keys in your bag, this screen protector is your ROG Ally's first line of defense. It's made from high-quality materials that offer superior transparency, ensuring that your gaming experience remains visually stunning.
Best SSDs and SD Cards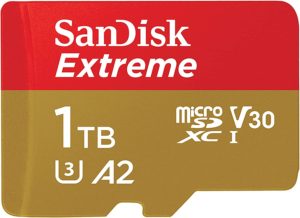 If you're a gamer who's constantly running out of storage space, the SanDisk 1TB Extreme microSDXC UHS-I Memory Card is your knight in shining armor. This microSD card is not just an excellent choice for affordable expansion, but it's also a powerhouse when it comes to speed and reliability. It provides a whopping 1TB of extra space, ensuring you never have to worry about deleting old games to make room for new ones.
The SanDisk Extreme microSD card is designed with SanDisk's proprietary QuickFlow Technology, which enables card offload speeds of up to 190MB/s. This means you can transfer your games and data at lightning-fast speeds, saving you precious time. Please note that to reach these speeds beyond UHS-I 104MB/s, you'll need compatible devices capable of achieving such speeds. Also, the QuickFlow Technology is only available for capacities ranging from 64GB to 1TB.
But that's not all. This microSD card also boasts up to 130MB/s write speeds, allowing for fast shooting. It's 4K and 5K UHD-ready with UHS Speed Class 3 (U3) and Video Speed Class 30 (V30), making it perfect for high-resolution gaming. However, do keep in mind that performance may vary depending on the host device interface, usage conditions, and other factors.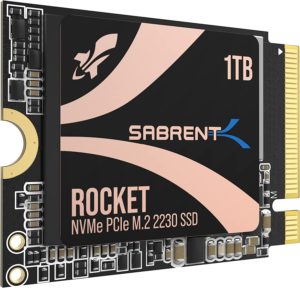 While it may come with a higher price tag, the exceptional speed and expansive storage capacity make it a solid investment. Imagine having more games at your disposal and experiencing faster load times – sounds like a dream, right?
The beauty of the Rocket 2230 lies in its compact size. Whether you're looking to upgrade your Ally, the Rocket 2230 has got you covered. There's no need to risk purchasing a pulled OEM drive from an unreliable source when you can get a brand-new retail SSD designed to simplify your life. Plus, its compatibility with many longer slots ensures its usefulness across various systems, including your HTPC or smaller systems.
But don't be deceived by its small size. The Rocket 2230 is a powerhouse when it comes to performance. It offers Gen4 NVMe performance in a tiny form factor, allowing you to hit up to 5GBps and push up to 800K IOPS with impressive responsiveness. Even if you're using Gen3 and Gen2 PCIe slots, it maintains excellent latency despite the reduced bandwidth.
Best Chargers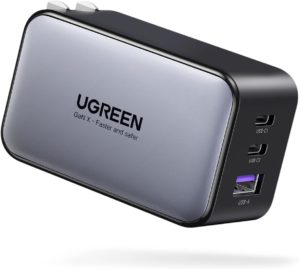 This charger was recommended for its versatility in charging ROG Aly. It was particularly appreciated for its utility during trips when multiple devices need to be charged overnight with only one plug.
What sets the Ugreen 65W Charger apart is its travel-friendly, compact design. Thanks to a cutting-edge GaN chip, it's 50% smaller than the original 61W USB-C charger. Plus, it features a foldable plug, providing more portability and a better travel experience.
But don't let its compact size fool you. This charger is capable of 60W PD fast charging, allowing you to charge devices 2x faster than with an 18W USB C cable. Your ROG Ally can keep running in Turbo mode while connecting to this charger.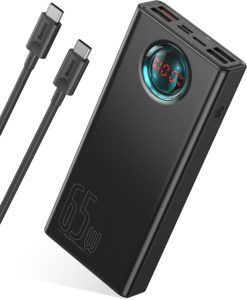 The Baseus 30000mAh Power Bank is a versatile and high-capacity portable power solution, designed to keep your ROG Ally powered up on the go. It's an essential charger for outdoor activities or business trips, though its high capacity does make it somewhat bulky.
The power bank also features multiple ports, allowing it to charge 3-5 devices simultaneously, making it a truly multifunctional device. The 65W USB-C port can charge a handheld at full speed.
It is equipped with an intelligent LED display that supports three modes switch, providing real-time monitoring of current, voltage, and power, and reminding you of the charging status.
It's compatible with almost all USB C and USB A-powered devices and supports PD3.0, QC4.0, SCP for fast charging. The power bank also includes a multi-protection system, offering advanced over-heat, over-current, over-discharge, over-voltage, and short-circuit protection.
Best USB Hubs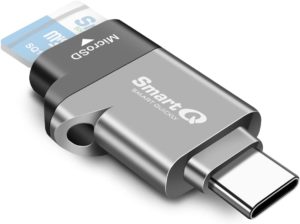 This adapter is appreciated for enabling the use of micro SD cards, providing storage expansion, and allowing file transfer.
It can be a temporary solution for ROG Ally's broken SD card issue. However, some users reported that the device tends to overheat and disconnect, and there were issues with recognizing SD cards and potential damage to them.
Best Docking Stations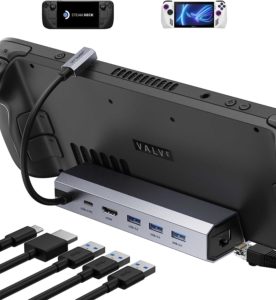 The JSAUX Steam Deck Dock is a versatile 6-in-1 docking station that comes equipped with an HDMI 4K@60Hz output, a Gigabit Ethernet input, three USB-A 3.0 ports, and a USB-C port for charging, offering a new way to play with ROG Ally.
The dock's HDMI 2.0 output supports 4K@60Hz, providing a sharper and smoother visual experience when connected to an external 4K monitor, allowing you to fully immerse in your games.
The JSAUX Steam Deck Dock also supports 100W Max power delivery, which is more than enough to charge your ROG Ally at full speed when used with the original charger.
Please note that the maximum charging speed of the Steam Deck is 45W, and the dock may not guarantee 30W Turbo Mode for ROG Ally, which may require a charger over 65W.
The dock also features a Gigabit Ethernet input, offering blazing-fast download and upload speeds for seamless online multiplayer gaming, rapid game updates, and quick file transfers. This eliminates frustrating lag and latency issues, ensuring uninterrupted gaming sessions.
Best eGPU Enclosures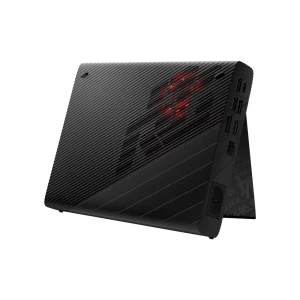 The ROG XG Mobile (2023) is a powerful external graphics processing unit (eGPU) that brings a significant boost to your gaming experience. When connected to the ROG Ally in docked mode, it harnesses the power of an Nvidia GeForce RTX 4090 laptop GPU, enhancing the device's performance dramatically.
This eGPU is not just about power, though. It also offers a wealth of connectivity options, making it a viable substitute for a desktop setup. These options include 2.5GB LAN for fast internet connections, HDMI 2.1 for high-definition video output, and DP 1.4 with G-Sync for smooth, tear-free gaming.