The ONEXPLAYER 2 is a handheld gaming console that offers gamers a unique and versatile gaming experience. With detachable controllers, the device can be transformed to meet different gaming needs, allowing players to choose their preferred way of playing and making the most out of their ONEXPLAYER 2.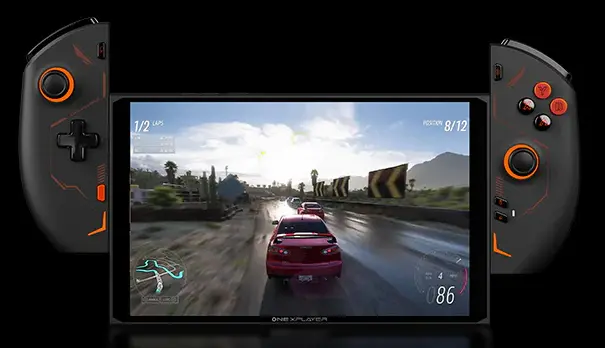 ONEXPLAYER 2 Specs
CPU: AMD Ryzen 7 6800U, 8 Zen 3+ cores / 16 threads, Up to 4.7 GHz, 4W – 28W TDP
GPU: AMD Radeon 680M, 12 RDNA cores, Up to 2.2 GHz
Display: 8.4″ 2560×1600 IPS LCD, 358PPI, 350 Nits
RAM: 16/32GB of 6400 MHz LPDDR5
Storage: 512GB/1TB/2TB replaceable M.2 2280 SSD
Input: detachhable controller,
Battery: 65.5Wh, 100W GaN fast charger
Ports: 1 x USB4 Type-C (40 Gbps), 1 x USB 3.0 Type-A, 1 x microSD card reader (up to 60MB/s), 1 x 3.5mm audio
Wireless: WiFi 6E and Bluetooth 5.2
Audio: Stereo speakers tuned by Harman
OS: Windows 11
Dimensions: 310 x 127 x 23mm (without controllers: 208 x 127 x 23mm)
Weight: 848 grams (withoput controllers: 709 grams)
One of the standout features of the ONEXPLAYER 2 is its powerful AMD Ryzen 7- 6800U processor, which boasts 8 cores and 16 threads. With a base frequency of 2.7 GHz and a max turbo frequency of up to 4.7 GHz, this CPU is capable of handling even the most demanding games with ease. The graphics are equally impressive, with an AMD Radean 680M graphics card and RDNA 2 graphics framework, featuring 12 graphics cores and a 2200 MHz graphics frequency.
The ONEXPLAYER 2 also boasts an 8.4-inch full IPS 2.5K (2560×1600) screen, with 100% sRGB and a 358 PPI pixel density. The screen offers a 178-degree super-large viewing angle, and supports 10-point touch. The result is a clear and exquisite game quality experience that is comparable to a large-screen gaming laptop. For some AAA games, buyers may need to downgrade the resolution to 1920×1200 to achieve high and steady FPS.
One of the most impressive features of the ONEXPLAYER 2 is its multiple usage modes. There are five in total, including Game console Mode, Laptop Mode, Tablet Mode, TV Mode, and Tabletop Mode. This device is not just a gaming PC, but a versatile tool that can be transformed to meet any need.
The ONEXPLAYER 2 comes equipped with a large 17100 mAh 65.5WH/3.85V battery and a 100W GAN PD Fast charger. This ensures that the device can be quickly replenished in case of an emergency, so that you don't fall behind at the critical moment of the game.
The ONEXPLAYER 2 has a smart Cooling System that keeps your gaming experience cool and comfortable. This system includes a high-speed PC-level fan that is made from a high-molecule polymer material, which makes it both hard and quiet. The fan is equipped with PWM speed control technology that automatically adjusts the fan speed based on the temperature.
To enhance performance, the ONEXPLAYER 2 uses Honeywell's top-rated phase change heat sink with a thermal conductivity of 8.5 and a thermal resistance of just 0.04. This material quickly and effectively conducts heat from the processor to the fan for quick dissipation.