AOKZOE A1 Pro handheld game console has been spotted in the Geekbench 5 database, featuring an AMD Ryzen 7 7840U Phoenix hybrid processor (APU). This processor is more powerful than the earlier models, making the A1 Pro a more powerful gaming experience.
Its performance is similar to GTX 1060's.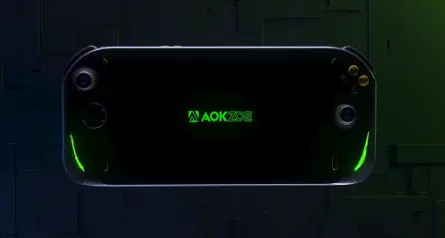 AOKZOE A1 Pro Specs
CPU: AMD Ryzen 7 7840U Phoenix
GPU: Radeon 780M, Zen 4, up to 12 Cu of RDNA3
Display: 8 inch, 1920 x 1200 pixel IPS LCD display
RAM: 32GB/64GB LPDDR5X @ 6400 MT/s
Storage:
Input: controllers with hall sensor joysticks and analog triggers
Battery: 65Wh, 100W GaN Fast Charger
Ports: USB4 and USB 3.0 ports
Wireless: WIFI 6.0 + BT 5.2
Audio:
OS: Windows 11
Dimensions:
Weight: 729 grams
The Ryzen 7 7840U from AMD is a low-power processor that has 8 cores and 16 threads. It has a base clock speed of 3.3GHz, and thanks to boost speeds of up to 5.05GHz, offers a high-performance processor in a small package. With the boost clock very close to the Ryzen 7840HS, it offers a base clock 500 MHz lower but still offers a processor that is incredibly powerful.
Alongside this, the Ryzen 7 7840U has 12 RDNA3 Compute Units delivering the graphic performance of a Radeon 780M integrated graphics card. All this means is that the Ryzen 7 7840U will offer high levels of performance in a compact and energy-efficient package.
AMD's Ryzen 7 7840U processor has been confirmed for the upcoming GDP Win Max. Additionally, ASUS is creating the ROG Ally console with the most powerful Ryzen APU. This custom chip is likely built with the same or similar silicon as the 7840U, but ASUS may have requested some minor modifications.
The A1 handheld device is expected to maintain some of its key features. These features include an 8-inch IPS LCD display with a resolution of 1920 x 1200 pixels, USB4 and USB 3.0 ports, game controllers with hall sensor joysticks and analog triggers for enhanced accuracy, RGB lighting effects for a more visually appealing device, a 65Wh battery guaranteed to offer reliable performance over time, and a fast charging 100W USB-C power adapter.