The portable PC gaming world is about to witness a thrilling new entry from a familiar name – Lenovo! Joining the race alongside giants like Valve's Steam Deck and ASUS' ROG Ally, Lenovo is reportedly readying its own handheld gaming dynamo, tentatively titled 'Legion Go'.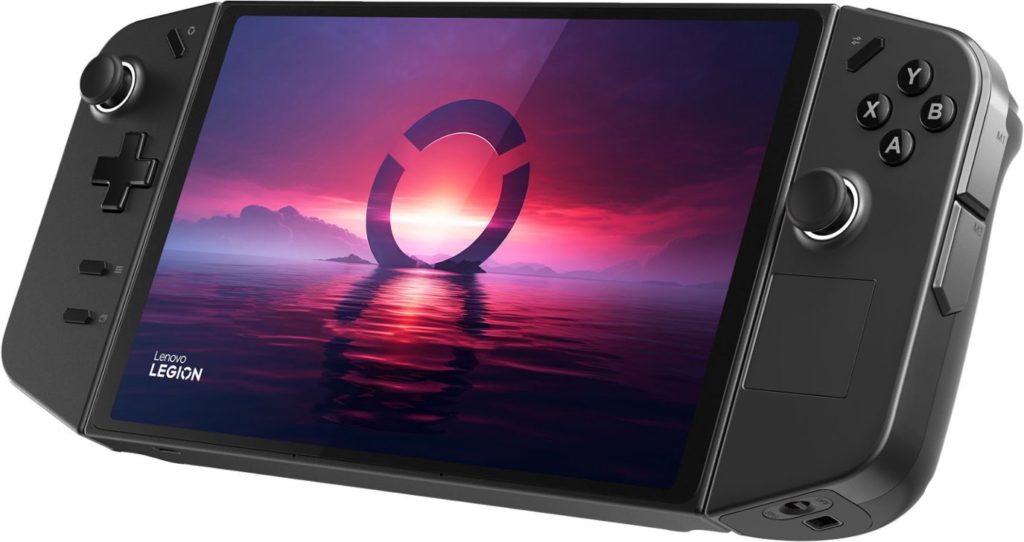 Lenovo Legion Go Specs
Release date: October 2023
CPU:

AMD Ryzen Z1
AMD Ryzen Z1 Extreme

GPU: AMD Radeon RDNA 3
Display: 8.8" QHD+ (2560 x 1600) IPS; 16:10 10-point Touch (144Hz / 97% DCI-P3 / 500nits / 83%AAR
RAM: 16GB 7500Mhz LPDDR5X on board
Storage: 256GB / 512GB / 1TB PCIe 4.0 NVMe M.2 2242
Input: Detachable controller, Multi-finger touchpad
Battery: 49.2WHr with Super Rapid Charge, Controller battery capacity: 900mah
Ports: 3.5mm audio combo jack1 x USB Type-C (USB 4.0, DisplayPort™ 1.4, Power Delivery 3.0)1 x microSD card reader, 1x USB Type-C (USB 4.0, DisplayPort 1.4, Power Delivery 3.0)
Wireless: Wi-Fi 6E (802.11 ax), Bluetooth 5.2
Audio: 2 x 2W SpeakersDual-array near-field microphone
OS: Windows 11 Home
Dimensions: 210mm x 131mm x 20mm (8.27″ x 5.15″ x 0.79")
Weight: 854g
As one leak has revealed, Lenovo's secret weapon in this heated market is the 'Legion Go', a handheld gaming PC equipped with Windows 11, ensuring unparalleled PC gaming compatibility.
While we don't have all the details just yet, we know that it's packing AMD's brand new Phoenix processors, designed to be slim and zippy, perfect for delivering stunning gaming, AI, and graphic capabilities for ultrabooks. With Ryzen chips under the hood, it's pretty clear that Lenovo's 'Legion Go' is aiming to be a heavy-hitter in the world of Windows PC gaming handhelds.
What's that you say? When can you get your hands on this tech marvel? Well, we don't have the exact timeline yet, and we can't even guarantee it'll make it into our reality. But considering the massive success of competitors like the Steam Deck and the ASUS ROG Ally, we wouldn't bet against Lenovo launching this beast into the gaming universe.
What's more, the Legion Go is reportedly packing an 8.8-inch QHD+ screen. That's a tad bigger than the 7-inch displays offered by the ASUS ROG Ally or the Steam Deck. With PC and console games often designed for larger screens, a bigger display might give the Legion Go an edge, provided it remains lightweight and balanced.
Now, is 2560 x 1600 too much for a handheld screen under 10 inches? A lot of gamers might argue that a FullHD display would have sufficed, prioritizing better battery life or refresh rates. Speaking of which, the screen does come with a slick 144Hz refresh rate.
As for memory and storage, you have some options. Choose from 16GB of blazing-fast 7500MHz LPDDR5X RAM and storage capacities ranging from 256GB to a whopping 1TB. This device is clearly setting its sights on outdoing competitors like the Steam Deck and ROG Ally.
The Legion Go will be powered by AMD's Z1/Z1 Extreme chips, which are described as "ultra-thin" and perfect for powerful, yet elegantly slim devices. These chips can hit a 15W low-power state, maximizing battery life for lightweight games, much like the Steam Deck and ROG Ally.
The Legion Go device has large air vents on its back, indicating its strong power. It also comes with a stand that makes it convenient to connect another controller. Although we don't have information about the noise levels yet, we will test it once it becomes available. Stay tuned for our updates on that!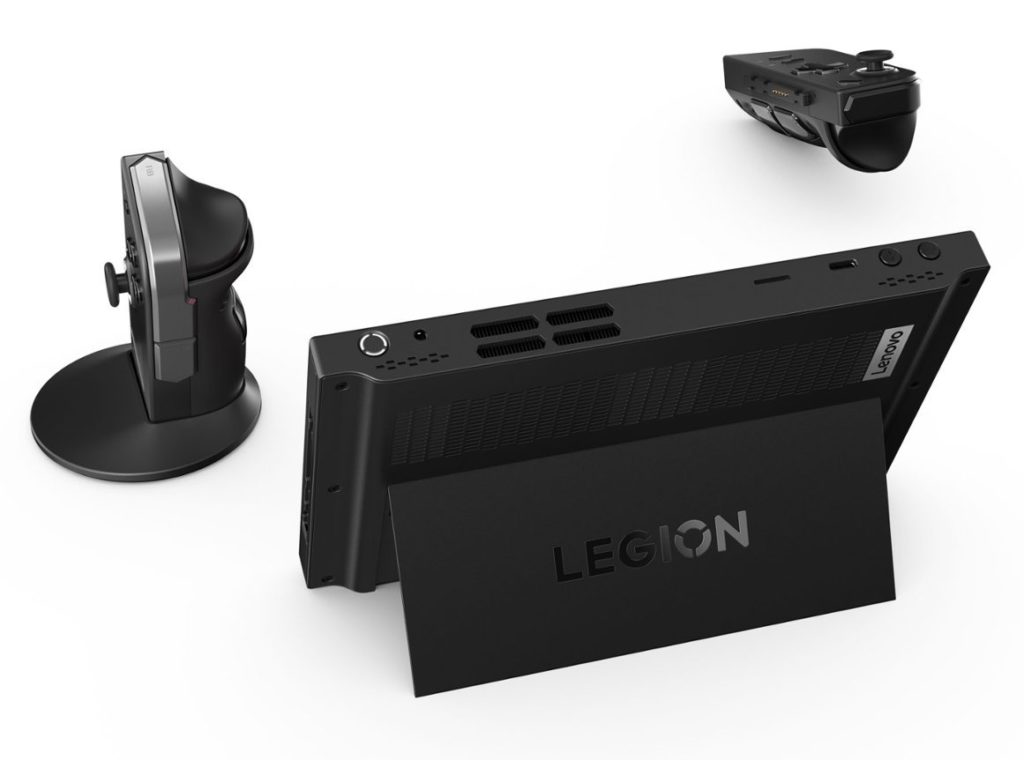 Size-wise, with controllers detached, the base unit measures 210mm x 131mm x 20mm, translating to roughly 8.27 x 5.15 x 0.79 inches. Attach the controllers, and the size jumps to 299mm x 131mm x 41mm, or about 11.8 x 5.15 x 1.61 inches. In the weight department, it's 640g without controllers and 854g with them. The unit itself comes in a stylish Shadow Black.
Onto the all-important topic of battery life—a pain point for most handhelds. Legion Go has a 49.2 WHr battery, slightly beefier than its competitors but not by much. However, the Super Rapid Charge feature ensures you're back in the game quickly with 65W fast charging.
Of course, there's the possibility of other configurations that we're not aware of yet. It's all part of the thrill, isn't it? So, let's sit tight, enjoy the ride, and wait for the game to unfold!
Models and Pricing
Mark your calendars for September 1st—that's when the Legion Go gets unveiled. Eager to own one? It hits the market in October with a price tag of $699.
| SPEC | EXTREME VERSION | REGULAR VERSION |
| --- | --- | --- |
| CPU/APU | Z1 Extreme | Z1 |
| Cores | 8 | 6 |
| Threads | 16 | 12 |
| RAM | 16GB DDR5 (7500MHz) | 16GB DDR5 (7500MHz) |
| Storage | 512GB (listed as 476GB) | 256GB (listed as 238GB) |
| Screen Resolution | 2560×1600 | 2560×1600 |
Does Lenovo Legion Go support VRR?
You're wondering if the Lenovo Legion Go supports Variable Refresh Rate (VRR). Spoiler alert: it doesn't. And nope, Lenovo itself never promised this feature, so let's get that straight.
Why the fuss about VRR, you ask? VRR makes gaming smoother by bridging the gap between your frames-per-second (FPS) and your screen's refresh rate (measured in Hz). It helps reduce screen tearing and can even save a smidge of battery life. But hey, not having VRR isn't the end of the world, especially when it comes to the Legion Go.
Let's squash a myth right here: lacking VRR doesn't mean your screen will lag or stutter. Your display simply shows you the newest info it's got. If there's nothing new, it just reuses the last frame. The Legion Go offers a refresh rate of 144Hz, which is plenty fast and provides more screen updates compared to a 60Hz display. In layman's terms, your eyes get the latest in-game action quicker.
So, while VRR might be a nice perk, the absence of it on the Lenovo Legion Go isn't a deal-breaker, especially considering its 144Hz refresh rate. Could it be better with VRR? Possibly. But the difference is minimal and, right now, there's no tech to make that happen on this device.