A new BIOS update was released on July 21, 2023, and it is a game-changer. Packed with user experience (UX) improvements and the resolution of nagging bugs, it opens a new era of efficiency and customization.
This update makes your machine more powerful and more user-friendly, a thrilling blend of functionality and fun. Let's see what makes BIOS 323 an absolute must-have!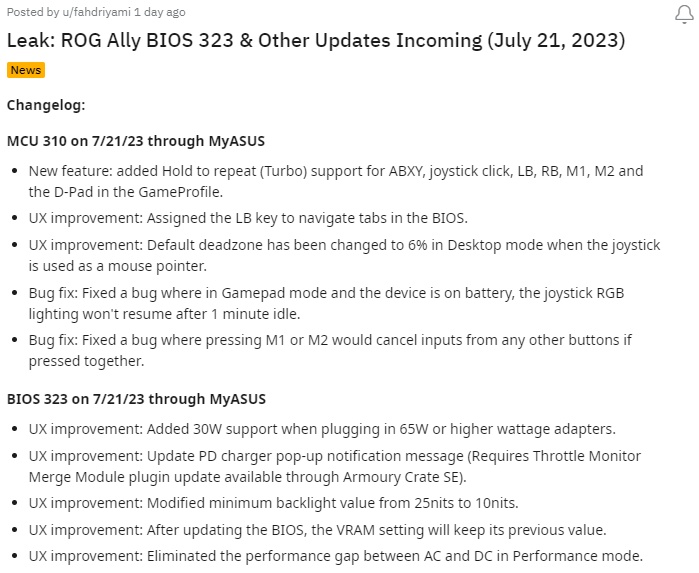 What is New in BIOS 323?
Power Upgrade: 30W Support for High Wattage Adapters
Before this update, if you connected a third-party charger with a capacity of 65 watts, the ROG Ally would not be able to utilize its most powerful mode, which requires 30 watts. The maximum power you could get was 25 watts, resulting in owners not fully utilizing Ally's potential when connected to a charger.
BIOS 323 now supports 30W mode when you plug in an adapter of 65W or higher. This improvement means you can now leverage higher-wattage adapters, bringing more power to your device without worrying about compatibility issues.
Now, you have more power at your disposal. You can rest assured that your Ally will run smoothly even with demanding games. It's all about giving you the versatility you need, in a package that's easier to handle!
Besides the 30W support, many reports that after upgrading to BIOS 323, there's a substantial increase in Frames Per Second (FPS) when operating in 15W mode too.
Updated PD Charger Pop-Up
BIOS 323 also brings an update to the PD charger pop-up notification message. This upgrade requires the Throttle Monitor Merge Module plugin, which is available through Armoury Crate SE.
The revamped notification system enhances the overall user experience by providing clear, succinct, and timely alerts. This enhancement will make it easier for you to keep track of your charging status and ensure your device is always ready to perform when you need it to.
Modified Backlight
With the aim of improving user comfort, the minimum backlight value has been adjusted from 25nits to 10nits in the new BIOS update. Now, you can enjoy a more comfortable viewing experience, especially in dimly lit conditions.
VRAM Settings
Moreover, the VRAM setting will retain its previous value after updating the BIOS. This enhancement ensures a smooth transition and uninterrupted performance, saving you the hassle of resetting the VRAM settings post-update.
It also introduces the option to set the default VRAM at either 6GB or 7GB (found under UMA buffer size). However, the Armoury Crate software does not currently support these settings and displays an empty value instead.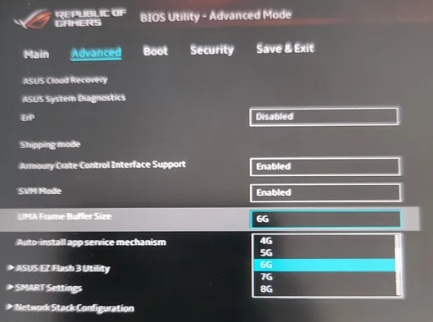 No More AC/DC Gap
Performance mode is where the real magic happens. With BIOS 323, the performance gap between AC and DC in Performance mode has been eliminated. This means that you can now expect consistent, high-quality performance, regardless of your power source.
Say goodbye to compromising on performance when you're away from an AC power source. BIOS 323 is about delivering peak performance – anytime, anywhere.
Additional Updates: MCU 310
Accompanying the BIOS 323 update, MCU 310 is also available on July 21, 2023, through MyASUS. This new feature adds Hold to Repeat (Turbo) support for ABXY, joystick click, LB, RB, M1, M2, and the D-Pad in the GameProfile.
Not only that but the UX has been improved by assigning the LB key to navigate tabs in the BIOS. Also, the default deadzone has been changed to 6% in Desktop mode when the joystick is used as a mouse pointer.
A couple of irritating bugs have been exterminated. In Gamepad mode, when the device is on battery, the joystick RGB lighting won't stop after 1 minute of idle anymore. Furthermore, pressing M1 or M2 won't cancel inputs from any other buttons if pressed together.
With these bugs fixed, your gaming experience is set to be smoother, more reliable, and more enjoyable than ever before.