Meet the GPD Win Mini, the next big thing in tiny gaming laptops! If you're familiar with the GPD Win 2, think of the Win Mini as its improved and compact sibling.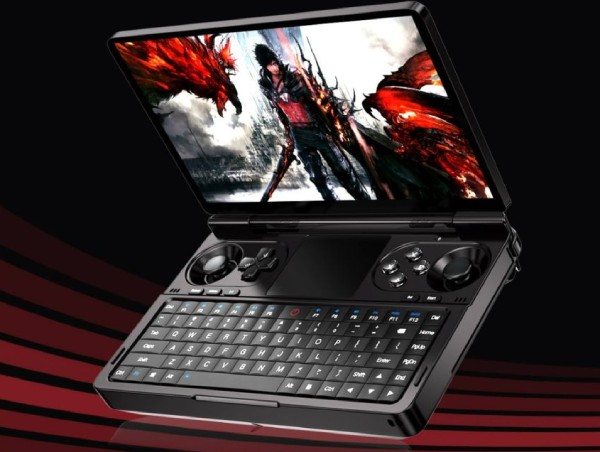 GPD Win Mini Specs
We expect its specs to be similar to the GPD Win 4 (2023)'s.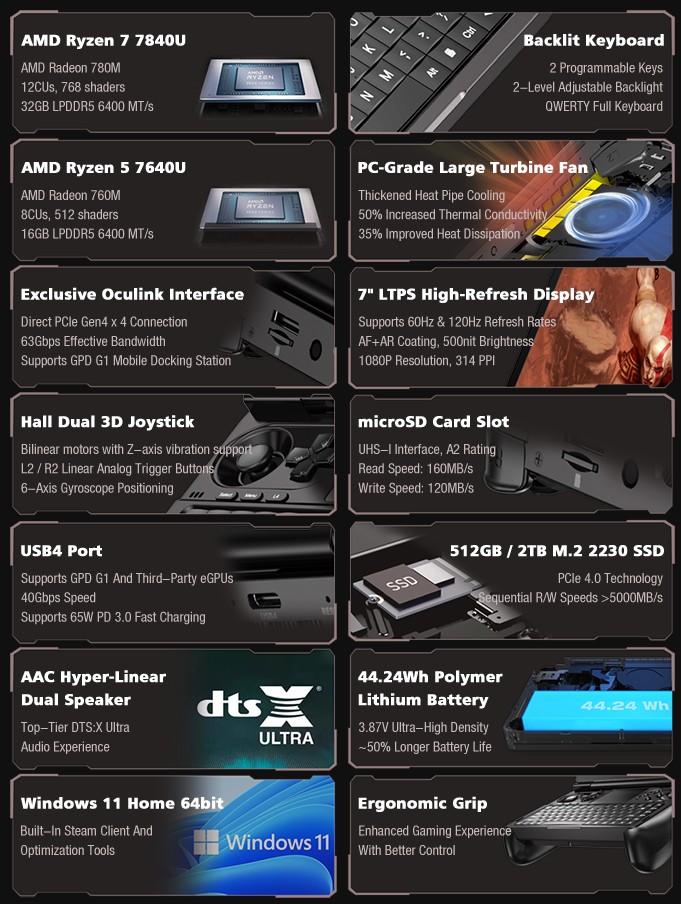 CPU:

AMD Ryzen 7640U
AMD Ryzen 7840U

GPU: Radeon 780M
Display: 7-inch FHD, 120 Hz
RAM: 16GB/32GB/64GB, LPDDR5x 7500 MT/s
Storage: 512GB/2TB, PCIe 4.0 M.2 2280 SSD
Input: QWERTY keyboard, touchpad, game controllers, hall-effect joysticks
Battery: 44.24Wh
Ports: 1 x USB 4 port, 1 x USB 3.2 Type-C port, 1 x microSD card slot, 1 x Oculink connector (SFF-8612, 63 Gbps connection)
Wireless:
Audio: AAC Hyper-Linear Dual Speaker
OS: Windows 11 Home
Dimensions: 168 x 109 x 26 mm
Weight: 520g
| AMD APU | RAM | Storage | Crowdfunding price | Retail price |
| --- | --- | --- | --- | --- |
| Ryzen 5 7640U | 16 GB | 512 GB | US$699 | US$820 |
| Ryzen 7 7840U | 32 GB | 512 GB | US$869 | US$960 |
| Ryzen 7 7840U | 32 GB | 2 TB | US$999 | US$1,150 |
The GPD Win Mini comes with a clamshell design, allowing you to fold it just like a laptop. It's small enough to nearly fit in your pocket but packs a punch with its robust processor.
The Win Mini flaunts a 7-inch Full HD display with a refresh rate of 120 Hz. That means you'll get smooth and clear visuals during your gaming sessions. What's more, it's equipped with a QWERTY keyboard, a touchpad, and game controllers conveniently positioned above the touchpad. These controls allow you to comfortably hold the device with both hands while gaming.
If you're worried about holding a small device for long periods, the Win Mini has got you covered. It includes detachable grips, which you can attach for a better hold during gaming or remove to give it more of a traditional laptop appearance.
The real magic of the Win Mini lies in its performance. It runs on an AMD Ryzen 7640U/7840U series processor and includes Radeon 780M series integrated graphics. This combination makes it a powerful contender, even offering a performance that could potentially surpass the Steam Deck.
An additional highlight is the Oculink connector, offering a speedy 63 Gbps connection. It can be utilized to connect a graphics dock like the GPD G1, adding even more muscle to your gaming experience.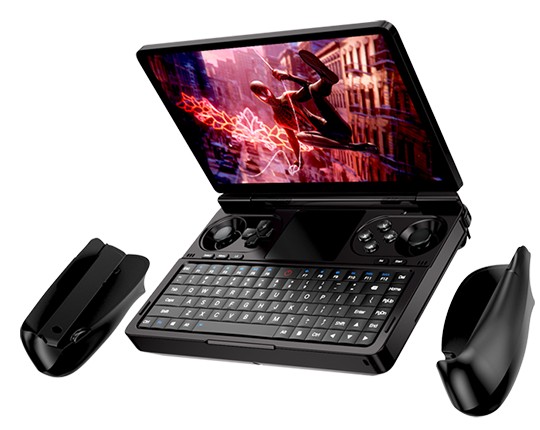 The WIN Mini also comes up with an ergonomic grip! This detachable accessory is designed to enhance your gaming experience by providing a more comfortable and natural grip. Inspired by the ergonomic design of the DualSense controller, this user-friendly accessory effortlessly fits into your hand, allowing you to fully immerse yourself in the game. With the Ergonomic Grip, you can enjoy improved control and a heightened gaming experience, as it enables you to focus more on the game itself.
If you find yourself thinking the Win Mini looks somewhat familiar, you're right! It's actually a scaled-down version of the GPD Win Max 2.