ONEXPLAYER has done it again! They've pulled out all the stops and created a handheld gaming console that is simply mind-blowing: the ONEXFLY. This little marvel is a testament to the brand's unwavering commitment to their loyal supporters, offering an unbeatable combination of state-of-the-art display, lightweight design, and unmatched performance.
You can find the handheld's detail on Indiegogo.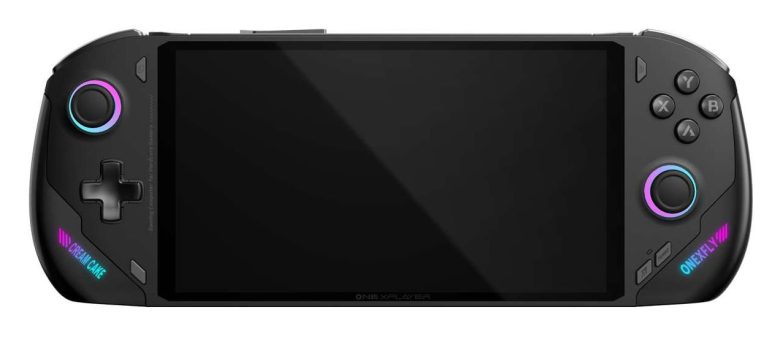 ONEXFLY Specs
CPU: AMD Ryzen 7840U "Phoenix"
GPU: Radeon 780M
Display: 7″ ultra-thin bezel, 1920 x 1080 pixel IPS LCD display, 120Mhz
RAM: 16GB/32GB
Storage: 512GB/1TB/2TB/4TB
Input:
Battery: 48Wh
Ports: 2 x USB4 Type-C ports, 1x USB 3.2 Type-A port, 1 x 3.5mm headset jack, 1 x microSD card reade
Wireless: Wifi 6, Bluetooth 5.2
Audio: tuned by audio experts at Harman Kardon
OS: Windows 11
Dimensions: 263.6 x 98.25 x 22.6mm
Weight: 580g
First up, let's talk about the brain behind the brawn—the AMD 7840U CPU. This beast of a processor ensures lightning-fast speed and responsiveness, making sure that your gaming sessions are smooth and lag-free. Paired with the powerful Radeon 780M GPU, the ONEXFLY delivers an unrivaled gaming experience that will leave you in awe.
The ONEXFLY boasts a 7-inch screen that will blow you away with its immersive visuals. With a crisp resolution of 1920 x 1080 pixels, every detail comes to life, transporting you to another world. But that's not all—this display also rocks a jaw-dropping 120Hz refresh rate. Its ultra-thin bezel design takes immersion to the next level.
It has stereo speakers tuned by audio experts at Harman Kardon, and it features multi-colored lights underneath the joysticks and along the lower edge of the handheld grips.
The cherry on top? The creators will be offering uniquely designed, color-shifting nameplates that you can add on the left and right sides. To add a touch of personalization, the ONEXFLY even comes with a personalized RGB emblem. Show off your unique style and make the console truly your own.
Weighing in at just 580 grams, it's incredibly lightweight, making it easy to carry around wherever you go.